ALOHA & WELCOME TO
HAWAI'I POST®
"Hawaii's personal delivery service"
Located near Diamond Head, Waikiki Beach, Hawaii.
---
January 20, 2023: Stamps are still available. Click here to order.

NOTE: Several customers are bouncing our reply emails. Please make sure our email address is in your whitelist and NOT on the blacklist of your email software.
---
MUSHROOMS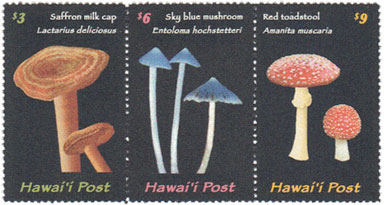 NEW STAMPS ISSUED MAY 6.
Click on the above stamps for details
---
HAWAIIAN ROYALTY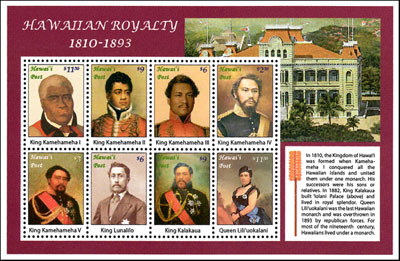 NEW STAMPS ISSUED APRIL 9th
Click on the above stamps for details
---
BIRDS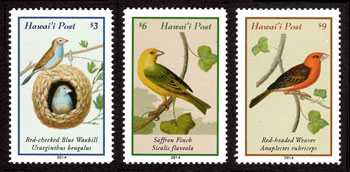 ---
YEAR OF THE HORSE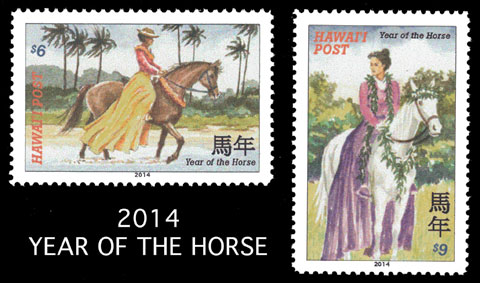 NEW STAMPS ISSUED JANUARY 31st
Click on the above stamps for details
---
SURFBOARD MAIL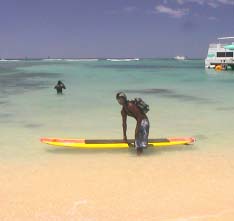 Surfer with mail readies his surfboard for departure.
Click here for details of "Surfboard Mail
---
HAWAI'I POSTAL HISTORY QUIZ
1. When was the first Post Office opened in Hawai'i ?
2. Where was the first Post Office in Hawai'i located?
3. Who was the first Postmaster of Hawai'i ?
4. When were the first Hawai'i stamps issued?
5. What shape was the first Hawai'i postmark?
6. When the first Post Office opened, what was the cost of mailing a letter with a Hawai'i destination ?
Hawai'i
You will notice throughout this website that the word " Hawai'i" has what looks like an apostrophe between the last 2 letters. This is the correct spelling in the Hawaiian language. The apostrophe is actually called a "glottal stop". The glottal stop is used as a pause and also to differentiate words. For example, Lana'i is the name of a Hawaiian island. Lanai (without a glottal stop) means a balcony.
---
PLEASE USE THE INDEX AT LEFT
FOR MORE INFORMATION
---
© 2000-2023 hawaii-post.com
all rights reserved
"Hawaii Post" is a registered Service Mark