---
September 2 2000 - 55th Anniversary of the Surrender of Japan at the end of World War II.
NOTE: From September 3 2005, these stamps are no longer available. This webpage is provided for reference only.
. . .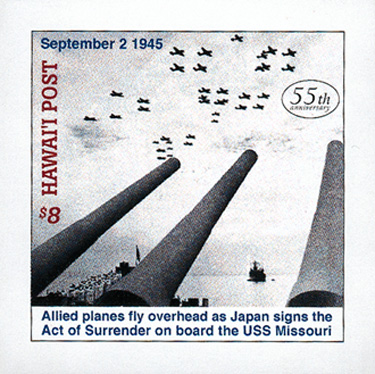 A postage stamp and a mini-sheet were issued by Hawai'i Post on September 2nd 2000 to celebrate the 55th Aniversary of the signing of the Act of Surrender by Japan on board the USS Missouri on September 2nd 1945.
The $5 stamp (above left) prepays the overnight rate and has a silhouette of the battleship. Top left is a map of Tokyo Bay where Japan signed the surrender. Top right is a map of Pearl Harbor and Ford Island where "The Mighty MO" is currently moored. In the background is BB-63 which is the ship number of the USS Missouri in the U.S. Navy.
The $8 mini-sheet (above right) prepays the same day rate and shows allied planes flying over the USS Missouri with its big guns raised in the air on the day Japan surrendered - September 2nd 1945.
Technical details of the stamp and mini-sheet:
Colors: $5. Forest Green, Grey-Green, Maroon, Royal Blue and Black.
$8 - Royal blue, maroon and black
Size: 32mm x 48mm (stamp). 84mm x 70mm (mini-sheet).
Stamps sheet size: 30 (6 across, 5 down)
Perforation: 12. The mini-sheet is imperforate.
Design, Layout & Pre-press: Enelani.
Printer: Hawai'i Security Printers, Honolulu, Hawai'i.
Printing Method: 4-color (Cyan, Magenta, Yellow and Black).
Sheet margin markings: HAWAI'I POST (top middle), "Traffic Light" showing 4 colors used in printing (lower right side), © 2000 Hawai'i Post (lower left side) & Hawai'i Security Printers, Honolulu, Hawai'i. (bottom middle)
Paper: GPA coated white stock with water-activated gum on the back.
---
Return to list of stamp issues
For details on upcoming stamp issues click here
---