---
March 11th 2001 - Centenary of the Moana Hotel, Waikiki.
Two stamps were issued on March 11th 2001 to celebrate the Centenary of the Grand Opening of the Moana Hotel, Waikiki. The "First Lady of Waikiki" as the hotel is known, was the first major resort hotel in Waikiki and opened it's doors on March 11th 1901. The tourists were few at first, but the Moana's reputation and it's location only helped it grow. A wing was added in 1952 and another in 1969. In the late 1980's, it underwent a major $50 million restoration and re-opened on March 29 1989. Today it is known as the "Sheraton Moana Surfrider" and is part of the worldwide Sheraton hotel chain.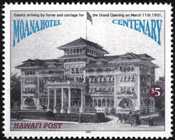 . .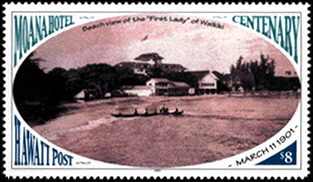 . .
The $5 stamp (above left) prepays the Overnight rate. It has the caption "Guests arriving by horse and carriage for the Grand Opening on March 11th 1901." This photo of the Moana was made right after the hotel opened.
The $8 stamp (above right) prepays the Same Day rate. It shows an early 1900's beach view of the Moana Hotel. It has the caption "Beach view of the "First Lady" of Waikiki." You can see part of the Moana pier at the right of the photo. The pier was built in the 1890's before the hotel existed, and was torn down in 1930 after a fire damaged it. The pier was never rebuilt.
The two stamps are in a larger than normal format, so as to show more detail of the picture content. Both photos are courtesy of the Hawai'i State Archives.
WE ACCEPT CREDIT CARDS ON ALL ORDERS




Technical details of the stamps:
Colors: $5 stamp - Turquoise blue, purple and black. $8 stamp - pea-green, ultramarine, black and sepia.
Size: 55mm x 45mm ($5 stamp). 77mm x 45mm ($8 stamp).
Stamps sheet size: $5 stamp - 15 (3 across, 5 down), $8 stamp - 10 (2 across, 5 down)
Perforation: 12.
Stamps design: Enelani.
Layout & Pre-press: Enelani.
Printer: Hawai'i Security Printers, Honolulu, Hawai'i.
Printing Method: 4-color (Cyan, Magenta, Yellow and Black) printing process.
Sheet margin markings: HAWAI'I POST (top middle), "Traffic Light" showing 4 colors used in printing (lower left side), © 2001 Hawai'i Post (lower right side) & Hawai'i Security Printers, Honolulu, Hawai'i. (bottom middle)
Paper: GPA coated white stock with water-activated gum on the back.
---
Return to list of stamp issues
For details on upcoming stamp issues click here
---