HAWAI'I POST ®

.

.

.

.

.

.

.

.

.

.

.

.

.

.

.

.

.

.

.

.

.

.

.

.

.

.

.

.

.
--
---
October 10 2003 - Hawaiian Birds, Part II.
Three stamps were issued on October 10th 2003 depicting Hawaiian Birds. This is the second in the series of Hawaiian birds. The first issue was released on April 16th 2002.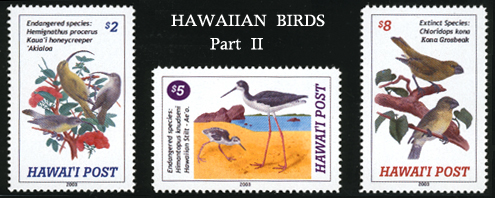 The $2 stamp (above left) pays for extra charges, such as additional weight. It shows the Endangered Species, Hemignathus procerus. The common name is Kaua'i honeycreeper and the Hawaiian name is 'Akialoa. It has a long curved bill and lives on insects and nectar from the Ohia and Lobelia flowers. Shown on the stamp are the beautiful red blossoms of the Ohia tree, which are called Lehua. These birds are endemic to Kaua'i and live in lowland forests, many of which have now been destroyed by human development. It is thought that these birds may have been seriously affected by avian malaria, parasites and predators. Originally considered extinct after about 1900, they were rediscovered in 1965 at the Alaka'i Swamp on Kaua'i, but not since.
The $5 stamp (above middle) prepays the Overnight rate. It shows the Endangered Species, Himantopus knudseni with one of it's young. The common name is Hawaiian Stilt and the Hawaiian name is Ae'o. This bird is endemic to the Hawaiian Islands and makes its nests in coastal marshes and wetland areas. It is a tall, slender, wading bird with a long, black bill and long pink-colored legs. It has a diet consisting of small fish, crabs, worms, water insects and water plants. They use their bills to find food and to crack open the shells of a crabs. One of the stilt's main breeding populations on O'ahu is the Nu'upia Ponds which supports 10% of the entire state population of stilt. It was listed as an endangered species in 1970.
The $8 stamp (above right) prepays the Same Day rate. It shows the Extinct Species, Chloridops kona. The common name is Kona Grosbeak. There is no Hawaiian name as it was very rare even before becoming extinct, with the last sighting in 1894. It was found at elevations of about 5,000 feet in the Kona district on the Big Island amid the koa forest. It was not found on any other island. Its food consisted of the seeds of the fruit of the naio tree (Myoporum sandwicense) and those of the sandalwood tree. A lot of it's time was taken up in cracking the extremely hard shells of this fruit using it's powerful beak. The loud cracking sounds could be heard for a considerable distance by predators and this may have been one of the reasons for it's extinction.
The stamps are based on illustrations in Baron Rothschild's two-volume book "The Avifauna of Laysan. Complete history to date of the birds of the Hawaiian Possessions" published in 1893.
WE ACCEPT CREDIT CARDS ON ALL ORDERS




Technical details of the stamps:
Colors: $2, $5 and $8 stamps - Multicolored
Size: 32mm x 48mm (stamps).
Stamps sheet size: 30 ($2 & $8 stamps - 6 across, 5 down, $5 stamp - 5 across, 6 down)
Perforation: 12.
Stamps design: Enelani.
Layout & Pre-press: Enelani.
Printer: Hawai'i Security Printers, Honolulu, Hawai'i.
Printing Method: 4-color (Cyan, Magenta, Yellow and Black) printing process.
Sheet margin markings: HAWAI'I POST (top middle), "Traffic Light" showing 4 colors used in printing (lower left side), © 2003 Hawai'i Post (lower right side) & Hawai'i Security Printers, Honolulu, Hawai'i. (bottom middle)
Paper: GPA coated white stock with water-activated gum on the back.
---
Return to list of stamp issues
For details on upcoming stamp issues click here
---