---
November 11th 2004. Hawaiian Airlines 75th Anniversary .
Three stamps, a minisheet and a booklet were issued on November 11th 2004 in celebration of the 75th Anniversary of the first commercial air service by Hawaiian Airlines (formerly Inter-Island Airways).

The $2 stamp (above left) prepays additional postage such as extra weight. It shows the Sikorsky S-38 named "Maui", the second plane in the Inter-Island Airways fleet. It was christened, together with "Hawaii" on November 11th 1929.
The $5 stamp (above middle) prepays the Overnight rate. It shows a luggage label issued by Inter-Island Airways that included a map of the Hawaiian Islands and their inter-island routes.
The $8 stamp (above right) prepays the Same Day rate. It shows passengers from the "Molokai" being taken ashore in an outrigger canoe after landing in the water near Kailua-Kona on the Big Island.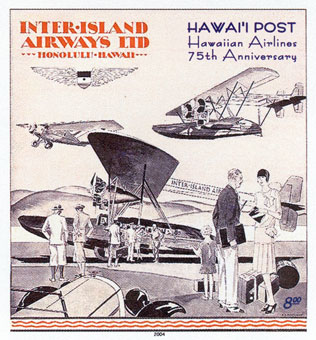 The $8 minisheet (above) prepays the Same Day rate. The image is from a continuous design from the front and back cover of a brochure for Inter-Island Airways in 1930. It shows passengers embarking on an 8-seater Sikorsky S-38, with another flying overhead. The other plane in the sky (on the left) is a Bellanca with a single Wright J-6 engine. It was the original airplane of the airline used for short sightseeing trips on O'ahu starting on October 6 1929, with only 5 seats for passengers.
The current day Hawaiian Airlines started out as Inter-Island Airways which was owned by the Inter-Island Steam Navigation Company. Two Sikorsky S-38 airplanes were purchased and christened "Hawaii" and "Maui" after two of the Hawaiian Islands. The planes were well suited for air flight in Hawai'i as they could land on water as well as land. Also, the plane could fly safely if one of its two engines should shut down. Each plane could carry eight passengers plus crew.
November 11th 1929 was named "Air Day" throughout the Territory by Lawrence Judd, the Territorial Governor. The first commercial air service began the same day at John Rodgers Airport (which later became "Honolulu International Airport"). The two Inter-Island Airways airplanes flew to Hilo on the Big Island with a stop at Ma'alaea Field on Maui. They were escorted by an astonishing number of 49 military planes (22 Army and 27 Navy), some only as far as Diamond Head, and then just 6 all the way to Hilo. Cruising at about 110 miles per hour, the flight, including the stop, took about three hours.
Inter-Island Airways became very successful and flew over 10,000 passengers in 1930, its first full year of service. Quite a feat considering there were only 8 seats on each plane. A total of four Sikorsky S-38 airplanes were put into service. As technology advanced, newer planes were brought into service. On October 8 1934, the first airmail flight took place after the airline won a bid on a Post Office contract to carry mail between the islands (see First Flight Cover below, signed by Charles Chillingworth, the Honolulu Postmaster).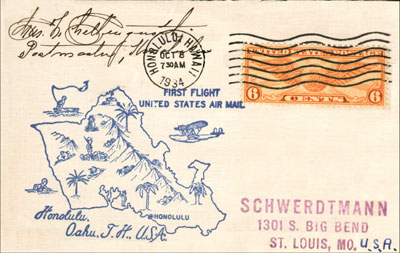 On October 1st 1941, Inter-Island Airways changed its name to "Hawaiian Airlines". Just 2 months later, on that infamous day of December 7th 1941, all Hawaiian Airlines' planes were strafed by Japanese bombers, but not too seriously as they were back in regular service within two weeks.Today, Hawaiian Airlines has the latest Boeing jet aircraft with an extensive network of routes serving Australia, American Samoa and Tahiti in the south and 8 major cities on the West Coast of the U.S.A., as well as inter island.
A Booklet consisting of 3 panes containing 2 x $2, 2 x $5 and 2 x $8 stamps was also issued. Each pane consists of 2 stamps and has a white margin all around. "© 2004 Hawai'i Post" is printed vertically on the lower right side margin & Hawai'i Security Printers, Honolulu, Hawai'i. is printed on the bottom margin of each pane.
The booklet is stapled twice at the left side. The back cover has a list of the postage rates of Hawai'i Post.
WE ACCEPT CREDIT CARDS ON ALL ORDERS




Technical details of the stamps:
Colors: $2, $5 & $8 stamps and $8 minisheet - Multicolored
Size: 48mm x 32mm or 32mm x 48mm. Minisheet 85mm by 97mm.
Stamps sheet size: 30. $2 and $8 (5 across, 6 down), $5 (6 across, 5 down).
Perforation: 12. Minisheet imperforate.
Stamp design: Enelani.
Layout & Pre-press: Enelani.
Printer: Hawai'i Security Printers, Honolulu, Hawai'i.
Printing Method: 4-color (Cyan, Magenta, Yellow and Black) printing process.
Sheet margin markings: HAWAI'I POST (top middle), "Traffic Light" showing 4 colors used in printing (lower left side), © 2004 Hawai'i Post (lower right side) & Hawai'i Security Printers, Honolulu, Hawai'i. (bottom middle)
Paper: GPA coated white stock with water-activated gum on the back.
---
Return to list of stamp issues
For details on upcoming stamp issues click here
---