---
August 23rd 2004. 125th Anniversary of the 'Ukulele.
Two stamps and a booklet were issued on August 23rd 2004 in celebration of the 125th Anniversary of the 'Ukulele.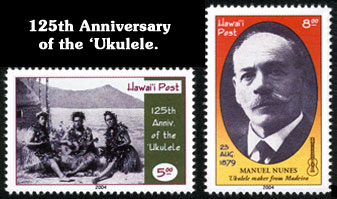 The British bark, the "SS Ravenscrag", arrived in the port of Honolulu on Saturday August 23 1879 from the Madeira Islands. She carried a total of 423 Portuguese passengers - 135 men, 115 women, and 178 children. The immigrants were employed as house servants and plantation hands, generally for 2 years, with wages averaging $12 per month for men, and $6 per month for women. The "SS Ravenscrag" was the second Portuguese immigrant ship to arrive in Hawai'i (the first "SS Priscilla" arrived on September 30 1878). Tradition has it that the "SS Ravenscrag" first brought to Hawai'i a musical instrument known in Maderia as the "braguinha". It was played publicly for the first time in Hawai'i by a Portuguese immigrant named Joao Fernandez. Hawaiians took an immediate liking to it.
In Portugal, the musical instrument called the "braguinha" was invented and manufactured in the second century BC by the Lusitani tribe who lived in the province of Braga in northern Portugal. Later, it was known in Madeira as the "Machete de Braga". Native Hawaiians originally had a musical instrument called the "ukeke", a crude piece of curved wood with two gut strings stretched tightly across and without much tuning. It mostly put out a monotonous sound. It is asserted that the 'ukulele derived it's name from the strumming technique of the player whose fingers "jumped like a flea" across the strings. Uku in Hawaiian means "flea" and lele "to jump", hence the nickname "jumping flea". It is also known as the "taro patch fiddle".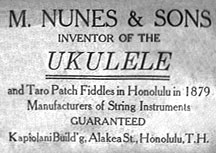 On board the "SS Ravenscrag" were three cabinet makers Augusto Dias, Jose do Espirito Santo, and Manuel Nunes. They each set up a shop where they made and sold 'ukuleles to Hawaiians for $5 (quite a bit of money at the time). Manuel Nunes (on the $8 stamp) had a store for many years on Alakea Street in downtown Honolulu. He claimed to have invented the 'ukulele and even put the claim on his label placed on all his ukuleles (photo above).
An Army Officer named Edward Purvis, arrived in Hawai'i in the 1880's and took up the 'ukulele, becoming very proficient at it. Augusto Dias, Jose do Espirito Santo, Joao Fernandez and Edward Purvis all played for King Kalakaua at 'Iolani Palace at various times.
The $5 stamp (above left) prepays the Overnight rate. It shows an old photograph depicting three hula girls strumming their 'ukuleles on the beach with Diamond Head in the background.
The $8 stamp (above right) prepays the Same Day rate. It shows a photograph of Manuel Nunes (in his later years) who made and sold 'ukuleles in Honolulu after arriving there in 1879. The postmark (below) shows one of his 'ukuleles.
A Booklet consisting of 2 panes containing 2 x $2 and 2 x $8 stamps was also issued. Each pane consists of 2 stamps and has a white margin all around. "© 2004 Hawai'i Post" is printed vertically on the lower right side margin & Hawai'i Security Printers, Honolulu, Hawai'i. is printed on the bottom margin of each pane.
The booklet is stapled twice at the left side. The front cover depicts 3 different 'ukuleles. The "pineapple" 'ukulele, a standard 'ukelele and a "cigar box" 'ukulele. The back cover has a list of the postage rates of Hawai'i Post.
WE ACCEPT CREDIT CARDS ON ALL ORDERS




Technical details of the stamps:
Colors: $5 & $8 stamps - Multicolored
Size: 32mm x 48mm.
Stamps sheet size: 30 (6 across, 5 down).
Perforation: 12.
Stamp design: Enelani.
Layout & Pre-press: Enelani.
Printer: Hawai'i Security Printers, Honolulu, Hawai'i.
Printing Method: 4-color (Cyan, Magenta, Yellow and Black) printing process.
Sheet margin markings: HAWAI'I POST (top middle), "Traffic Light" showing 4 colors used in printing (lower left side), © 2004 Hawai'i Post (lower right side) & Hawai'i Security Printers, Honolulu, Hawai'i. (bottom middle)
Paper: GPA coated white stock with water-activated gum on the back.
---
Return to list of stamp issues
For details on upcoming stamp issues click here
---