---
August 26th 2004. 30th Anniversary of Charles Lindbergh's Death on Maui.
Two stamps and a mini-sheet were issued on August 26th 2004 in memory of the 30th Anniversary of the death of Charles Lindbergh on Maui.
Charles Augustus Lindbergh was born on February 4 1902 in Detroit Michigan, but spent most of his childhood on a farm in Little Falls, Minnesota (see mini-sheet below). His Swedish-born father, Charles Augustus Lindbergh Sr, was an attorney and represented Minnesota as a U.S. Congressman from 1907 to 1917.
At the age of 18, he attended the University of Wisconsin where he studied engineering. However, after two years, he left school to become a pilot. He bought a war-surplus Curtiss Jenny in 1923 and "barnstormed" for a time. In 1924 he joined the Army Air Corps as a pilot trainee, graduating in 1925 at the head of his class and taking a commission in the Army Air Service Reserve. After graduation he was hired as chief pilot for Robertson Aircraft Corporation, one of the first private companies to win a commercial contract to fly airmail for the U.S. Postal Service . After two successful parachute jumps from crashing mailplanes, he was nicknamed "Lucky Lindy". Leaving the company, he went on to become the first aviator to fly solo non-stop across the Atlantic Ocean from New York to Paris, France in his plane the "Spirit of St. Louis" on May20/21 1927. For this achievement, he won the $25,000 Orteig Prize (see the colorful check on the mini-sheet below).
---

.

---
---


The $5 stamp (above left) prepays the Overnight rate. It shows "Argonauta", Lindbergh's house on Maui. Also a portrait of Lindbergh as an older man.

The $8 stamp (above right) prepays the Same Day rate. It shows Lindbergh in his flight suit as a younger man. An outline of his famous plane, the "Spirit of St. Louis" is on the lower right. "26 AUG. 1974" on the lower left is the date of his death on Maui.

The $5 mini-sheet shows a collage of memorable moments in Lindbergh's life.

.

---
This flight brought him instant fame and fortune and he toured all over the U.S. and gave many speeches. On May 27 1929, he married Anne Morrow, daughter of U.S. Senator Dwight Morrow. On March 1 1932, the Lindberghs' 20-month-old son, Charles Jr, was kidnapped from the family mansion in Hopewell, New Jersey, and held for a ransom which was paid (see wanted poster on mini-sheet below). About ten weeks later, the baby's dead body was found. In 1934, after tracing some of the ransom money, police arrested Bruno Hauptmann and charged him with the murder. Convicted by a jury of the heinous crime (mostly on circumstantial evidence) after a widely publicized trial, he was executed in 1936.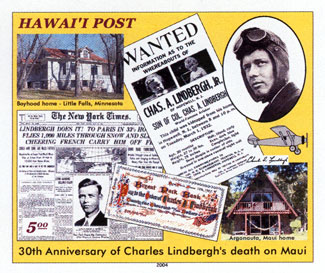 Lindbergh sought a retreat from the world to escape the Press and curiosity seekers. He first moved to Europe, where in 1938, he travelled to Germany to tour the Nazi Luftwaffe. A Nazi official, Hermann Goering, presented Lindbergh with a German medal of honor, but his acceptance of this medal caused an outcry in the U.S. Lindbergh resigned his Army Air Corps commission after President Roosevelt publicly denounced him. After the Japanese attack on Pearl Harbor in 1941, Lindbergh tried to re-enlist, but was refused. During the war he was a consultant in the production of B-24 bombers and a test pilot. As an "advisor", he flew fifty combat missions.in the Pacific Theater of Operations.
After WWII, Lindbergh withdrew from public life. He worked as a consultant to the U.S. Air Force and Pan American Airways. In 1954, President Eisenhower restored Lindbergh's commission and promoted him to Brigadier General in the U.S. Air Force. Lindbergh became involved in conservation and was instrumental in expanding the Haleakala National Park on Maui in 1969 to include the Kipahulu coastal area of 'Ohe'o (see map below).
In 1970, he built a house in Kipahulu (just south of Hana) on East Maui in the Hawaiian Islands, which he named "Argonauta" (as shown on the $5 stamp and the $5 mini-sheet). "Argonauta" was designed by John Theodore Jacobsen with three-foot thick lava rock walls supporting a wooden A-frame. His wife and author Anne Morrow had a small writers cottage built close by. Although he did not live permanently on Maui, Lindbergh and his family visited often and felt at peace there.
After being diagnosed with terminal cancer in 1974, he flew with his family from New York to Maui and he died near Hana in a rented cottage (close to his Physician) a few days later on August 26th 1974. He is buried in the churchyard at Palapala Ho'omau Congregational Church, Kipahulu on the Old Hana Highway, just a few miles south of Hana. The inscription on his tombstone reads "...If I take the wings of the morning and dwell in the uttermost parts of the sea" (from Psalm 139, verse 9).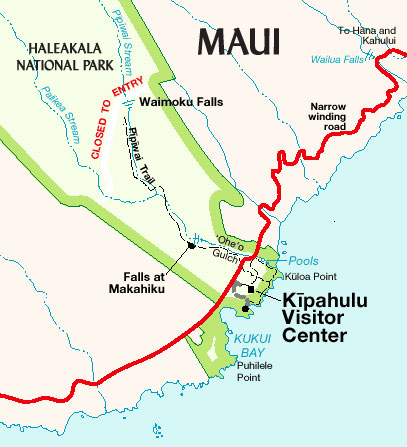 The Historic Hawai'i Foundation is currently relocating"Argonauta" and the Writer's Cottage onto Haleakala National Park lands, about a mile from their present location. They will become an integral part of the Kipahulu Conservation Center for Native Hawaiian culture and the history of the Hana, Maui area. See map above.

The postmark (above) depicts Lindbergh's empty pilot's helmet (actually more of a head warmer) and goggles that he wore on his famous flight.
WE ACCEPT CREDIT CARDS ON ALL ORDERS




Technical details of the stamps:
Colors: $5 & $8 stamps, & $5 mini-sheet - Multicolored
Size: 32mm x 48mm.
Stamps sheet size: 30 (6 across, 5 down).
Perforation: 12. Mini-sheet - imperf.
Stamp design: Enelani.
Layout & Pre-press: Enelani.
Printer: Hawai'i Security Printers, Honolulu, Hawai'i.
Printing Method: 4-color (Cyan, Magenta, Yellow and Black) printing process.
Sheet margin markings: HAWAI'I POST (top middle), "Traffic Light" showing 4 colors used in printing (lower left side), © 2004 Hawai'i Post (lower right side) & Hawai'i Security Printers, Honolulu, Hawai'i. (bottom middle)
Paper: GPA coated white stock with water-activated gum on the back.
---
Return to list of stamp issues
For details on upcoming stamp issues click here
---