---
April 2nd 2005 - Celebrating the life of Pope John Paul II, 1920-2005.
A stamp was issued on April 2nd 2005 to celebrate the life of Pope John Paul II.
| | | |
| --- | --- | --- |
| .. | .. | Born as Karol Wojtyla on May 18 1920 in Krakow, Poland to Roman Catholic parents who baptized him in their faith. He studied secretly during the German occupation of Poland, and was ordained on November 1st 1946. He earned his Doctorate in Theology in 1948 at the Angelicum in Rome, Italy. He was a Parish Priest in the Krakow diocese from 1948 to 1951. He studied Philosophy at the Jagiellonian University at Krakow and taught Social Ethics at the Krakow Seminary from 1952 to 1958. In 1956 he became a Professor at the University of Lublin. Pope Pius XII appointed Karol Wojtyla as an Auxiliary Bishop in Krakow on July 4 1958. Pope Paul VI appointed him Archbishop of Krakow on December 30 1963. |
In 1978, at the age of 58, he was elected Pope by the College of Cardinals after two days of deliberation. It was a surprise, because he was not part of the Vatican "in-crowd" and he was the first non-Italian Pope to be elected in more than 450 years. Karol Wojtyla took the name Pope John Paul II.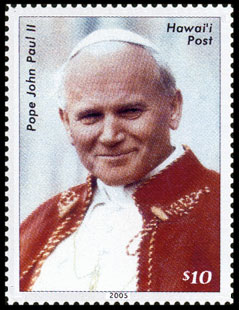 Pope John Paul II was the 264th Pope and the leader of the world's largest Christian community - Roman Catholicism. He loved to travel and visited more than 120 countries during his Papacy. Wherever he went, huge crowds, Catholic and those of other religious faiths, attended his every move. Although compassionate and engaging, he was considered too conservative by many in the church when it came to such issues as female priests, abortion, contraception, divorce and homosexuality.
In May 1981, Pope John Paul II was shot and seriously wounded in his vehicle in St Peter's Square by a Turkish fanatic. He recovered and then visited and forgave his would-be assassin. In 1989, the Soviet Premiere Mikhail Gorbachev visited the Pope at the Vatican, the first time a Soviet leader had been to St Peter's. The understanding between the two men undoubtedly eased the way to democracy in the former Communist states.
Pope John Paul II died, after a long illness, on April 2nd 2005 at his apartment in the Vatican.
Although religious figures outside Hawai'i are not usually commemorated by Hawai'i Post, this man was of such great importance to the world that we issued a stamp in memory of him and his great life. Sadly, according to a source at the Honolulu Advertiser, Pope John Paul II never visited Hawai'i.
The $10 stamp (above) prepays the Same Day rate for 1.5 kilograms (3.3 pounds). It shows a smiling portrait of a younger Pope John Paul II.
The postmark for this issue (below) shows the Papal Coat of Arms of Pope John Paul II. "M" stands for the Virgin Mary.

A quote from Pope John Paul II "Freedom consists not in doing what we like, but in having the right to do what we ought".
Click here to order the stamp.
WE ACCEPT CREDIT CARDS ON ALL ORDERS




Technical details of the stamp:
Colors: Multicolored.
Size: 38mm x 50mm
Stamp sheet size: 16 (4 across, 4 down).
Perforation: 12.
Stamp design: Enelani.
Layout & Pre-press: Enelani.
Printer: Hawai'i Security Printers, Honolulu, Hawai'i.
Printing Method: 4-color (Cyan, Magenta, Yellow and Black).
Sheet margin markings: HAWAI'I POST (top middle), "Traffic Light" showing 4 colors used in printing (lower left side), © 2005 Hawai'i Post (lower right side) & Hawai'i Security Printers, Honolulu, Hawai'i. (bottom middle)
Paper: GPA coated white stock with water-activated gum on the back.
---
Return to list of stamp issues
For details on upcoming stamp issues click here
---