---
June 11th 2005 - 50th Anniversary of the Grand Opening of the Princess Ka'iulani Hotel, Waikiki.
Two stamps were issued on June 11th 2005 to celebrate the 50th Anniversary of the Grand Opening of the Princess Ka'iulani Hotel in Waikiki. To understand why this hotel is so named requires a little history.
Born on October 16 1875, and named "Victoria" after the British Queen, she was the only daughter of Princess Likelike (King Kalakaua's sister) and Archibald Cleghorn (a merchant from Scotland via New Zealand - later Governor of O'ahu). Her full name was Victoria Ka'iulani Kalaninuiahilapalapa Kawêkiui Lunalilo. There was great joy throughout the Kingdom of Hawai'i as there was now another heir to the throne. She grew up in Waikiki at 'Ainahau, her ten acre estate, which was a gift from her godmother, Princess Ruth. Her pets included peacocks, a giant turtle and her white pony "Fairy". Princess Ka'iulani liked to take care of the many peacocks at 'Ainahau and this gave rise to the term "The Peacock Throne". Her father, Archibald Cleghorn, an avid botanist, planted many varieties of flowers, shrubs and trees and even built oriental-style bridges over the lily ponds.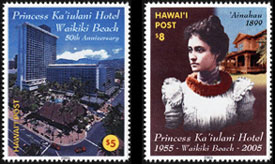 Robert Louis Stevenson arrived in Honolulu with his family in January of 1889 and spent some time at 'Ainahau reading and entertaining the young Princess Ka'iulani and attending tea parties at the estate under the famed banyan tree. (The original stone bench where the Princess and RLS sat and read stories under the Ainahau banyan tree is now located in the hotel's lobby). Four months after Robert Louis Stevenson's arrival, she left Hawai'i to finish her education in Europe. RLS even penned a poem for her prior to her departure (see poem). In 1891, Princess Ka'iulani was named by her aunt, Queen Lili'uokalani, as Heiress Apparent to the Kingdom of Hawai'i. However, Queen Lili'uokalani was dethroned in 1893.
| | | |
| --- | --- | --- |
| | ... | A letter addressed to The Hon. A. S. Cleghorn, Inahau (misspelled) from England, postmarked March 29 1899. The black border and date suggest that it was a condolence letter about the death of his daughter, Princess Ka'iulani. |
After 8 years of education in Europe, Princess Ka'iulani returned to Hawai'i in 1897 where she was greeted very enthusiastically by Hawaiians and, for many days, received well-wishers at 'Ainahau. In 1899, while horseback riding in a rainstorm on the Big Island, she caught a fever. She returned to 'Ainahau and died there March 6 1899.
Her father, Archibald Cleghorn, died of heart failure at 'Ainahau on November 1st 1910. His will gave the 'Ainahau estate to the City of Honolulu as a park in perpetuity but with strict provisions for its upkeep etc. The will had an alternative in which it would go back to the family. The City decided it could not live up to the restrictions, so 'Ainahau reverted to the Cleghorn family. The Cleghorn descendants subdivided 'Ainahau and sold it off to investors. 'Ainahau was destroyed by fire in the 1920's. When the Ala Wai river was dredged and made into a canal, the streams that ran through parts of Waikiki all dried up. The 'Apuakehau stream which used to run past 'Ainahau also dried up. The city paved it over with a street and named it Ka'iulani Avenue.
| | | |
| --- | --- | --- |
| | ... | The original Princess Ka'iulani Hotel, Waikiki Beach in 1955 |
Part of the estate was eventually bought by Matson Lines who built the 11-story Princess Ka'iulani Hotel there in 1955, right across Kalakaua Avenue from the Moana Hotel. It was just one building at first (see photo above). In 1960, a small Diamond Head wing and the 29-story Ainahau Tower were added. It is now a 1,152 room resort operated by Sheraton Hotels.
The $5 stamp (above left) prepays the Overnight rate. It shows an aerial view of the Princess Ka'iulani Hotel, as it appears today. The left corner is Kalakaua Avenue, the right corner is Ka'iulani Avenue.
The $8 stamp (above right) prepays the Same Day rate. It shows a portrait of Princess Ka'iulani. In the upper right hand corner of the stamp is 'Ainahau, her home on her estate in Waikiki in 1899 . The Princess Ka'iulani Hotel was built on part of her previous estate in 1955 and aptly named after her.

Click here to order the stamps.
WE ACCEPT CREDIT CARDS ON ALL ORDERS




Colors: Multicolored.
Size: 38mm x 50mm
Stamp sheet size: 16 (4 across, 4 down).
Perforation: 12.
Stamp design: Enelani.
Layout & Pre-press: Enelani.
Printer: Hawai'i Security Printers, Honolulu, Hawai'i.
Printing Method: 4-color (Cyan, Magenta, Yellow and Black).
Sheet margin markings: HAWAI'I POST (top middle), "Traffic Light" showing 4 colors used in printing (lower left side), © 2005 Hawai'i Post (lower right side) & Hawai'i Security Printers, Honolulu, Hawai'i. (bottom middle)
Paper: GPA coated white stock with water-activated gum on the back.
---
Return to list of stamp issues
For details on upcoming stamp issues click here
---