---
November 10th 2008. 250th Anniversary of the Birth of King Kamehaheha I.
Two stamps and a mini-sheet were issued on November 10th 2008 to celebrate the 250th Anniversary of the Birth of King Kamehameha the First.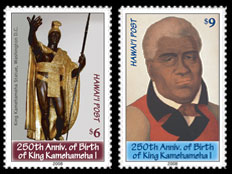 The $6 stamp (above left) prepays the Overnight rate. It shows the statue of King Kamehameha located in the Capitol Building in Washington D.C.
The $9 stamp (above right) prepays the Same Day rate. It shows a painting of King Kamehameha wearing western costume of the time by James Gay Sawkins (1806-1878) a British geologist in the colonial service and also an artist who visited Hawai'i during King Kamehameha's reign.
Legend has it that a bright light crossed the sky when "Pai'ea" (aka Tamehameha) was born in Koko'ike, Kohala on the Big Island of Hawai'i. The exact date of his birth is unknown, but Halley's Comet has been determined to have been viewable in the Hawaiian sky some time during the months of November and December in 1758. His father was Chief of Kohala. After his death, he was adopted by King Kalani'opu'u who tutored his adopted son in the tactics of war, and navigation, religion and history etc. The Missionaries in the early 1800's changed the letter T to a K, so he then became known as Kamehameha. He is also known as "Kamehameha the Great".
He unified the Hawaiian Islands after many battles with other Island Chiefs. He established the Kingdom of Hawai'i in 1810. He met with Captain James Cook on his second voyage of discovery in 1778. He had several European advisors who gave him military advice and helped him win his many battles. He moved his capital from the Big Island to Honolulu (as depicted in the $9 mini-sheet below)
.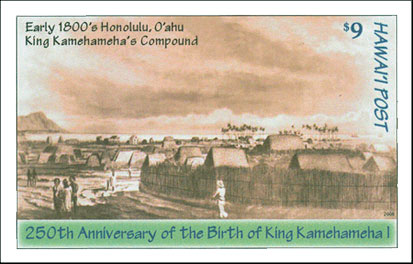 Kamehameha took several wives, but Ka'ahumanu was his favorite. He was a successful warrior but also a diplomat and developed friendships with the major colonial powers, thus preserving Hawai'i's independence. He was a strong defender of Hawaiian traditions including the kapu system of law and religion. On May 8th 1819 he died after a long illness at Kailua-Kona on the Big Island. His bones were hidden and have never been located to this day. The Kamehameha dynasty ruled over the Kingdom of Hawai'i until 1872 when King Kamehameha V died without naming an heir.
A statue was erected in his honor in front of the Ali'iolani Hale (the Hawai'i State Judiciary Building) in downtown Honolulu. Two similar statues also exist in Kohala on the Big Island (depicted on the $5 stamp in the June 11 2006 issue) and inside the United States Capitol Building in Washington D.C. (as depicted on the $6 stamp for this issue, above).

The special postmark for this issue shows an outline map of the Big Island of Hawai'i with a star for the village of Kohala where King Kamehameha was born in 1758.
WE ACCEPT CREDIT CARDS ON ALL ORDERS




Technical details of the stamps:
Colors: Multicolored
Size: Stamps - 48mm x 32mm.
Stamp sheet size: 30 (6 across, 5 down)
Perforation: Perf 12. Mini-sheet - Imperf.
Stamps design: Enelani.
Layout & Pre-press: Enelani.
Printer: Hawai'i Security Printers, Honolulu, Hawai'i.
Printing Method: 4-color (Cyan, Magenta, Yellow and Black) printing process.
Sheet margin markings: HAWAI'I POST (top middle), "Traffic Light" showing 4 colors used in printing (lower left side), © 2008 Hawai'i Post (lower right side) & Hawai'i Security Printers, Honolulu, Hawai'i. (bottom middle)
Paper: GPA coated white stock with water-activated gum on the back.
---
Return to list of stamp issues
For details on upcoming stamp issues click here
---