---
May 27th 2008. Grand Re-Opening
Three stamps and a mini-sheet were issued on May 27th 2008 in celebration of the Grand Re-Opening of Hawai'i Post.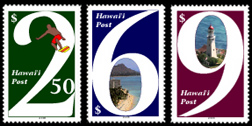 The $2.50 stamp shows a Surfer on a number 2 which appears to be a huge wave.
The $6 stamp shows a view of Waikiki Beach and Diamond Head.
The $9 stamp shows Diamond Head Lighthouse.
The above stamps reflect the new postage rates that came into effect on May 27 2008.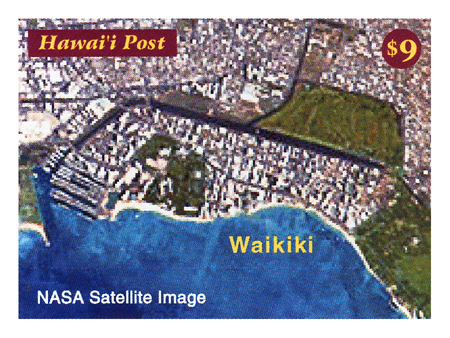 The $9 minisheet (above) prepays the Same Day rate. It shows a color-enhanced NASA satellite image of Waikiki Beach. The green area at the top right is the Ala Wai Golf Course. The green area at the bottom right is Kapiolani Park.. The green are within Waikiki is Fort DeRussy Park. You can clearly see the L-shape of the Ala Wai Canal which is Waikiki's boundary on two sides.

The special postmark for this issue shows a bicycle which is one of the methods used for delivery by Hawai'i Post.
WE ACCEPT CREDIT CARDS ON ALL ORDERS




Technical details of the stamps and mini-sheet:
Colors: $2.50, $6 & $9 stamps and $9 mini-sheet - Multicolored
Size: 76mm x 58mm (mini-sheet)
Stamps sheet size: 30 (6 across. 5 down).
Perforation: Stamps - perf 12. Mini-sheet - imperforate.
Stamps and Mini-sheet design: Enelani.
Layout & Pre-press: Enelani.
Printer: Hawai'i Security Printers, Honolulu, Hawai'i.
Printing Method: 4-color (Cyan, Magenta, Yellow and Black) printing process.
Sheet margin markings: HAWAI'I POST (top middle), "Traffic Light" showing 4 colors used in printing (lower left side), © 2008 Hawai'i Post (lower right side) & Hawai'i Security Printers, Honolulu, Hawai'i. (bottom middle)
Paper: GPA coated white stock with water-activated gum on the back.
---
Return to list of stamp issues
For details on upcoming stamp issues click here
---