---
November 2nd 2009. Hawaiian Treats.
Three stamps and a minisheet were issued on November 2nd 2009 depicting Hawaiian Treats.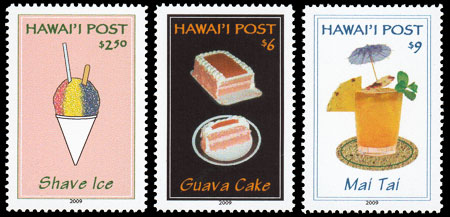 The $2.50 stamp (left) pays for extra charges, such as additional weight. It shows a Shave Ice which comes in a rainbow of flavors. A Shave Ice is a popular treat on a hot day in Hawai'i.
The $6 stamp (middle) prepays the Overnight Day rate. It shows a slice from a Guava Cake. This Hawaiian specialty is often exported to the mainland. The Guave Cake shown was baked by St. Germain Bakery, Honolulu.
The $9 stamp (right) prepays the Same Day rate. It shows a Mai Tai, a popular Hawaiian cocktail drink made from rum. Mai Tai is derived from the Tahitian word meaning "good".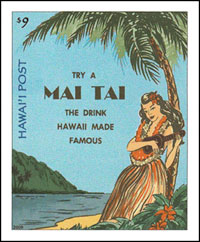 The $9 minisheet (above) prepays the Same Day rate. The image is a colorized drawing of an advertising label from the 1950's promoting the sale of Mai Tais.

The special postmark for this issue (above) shows the Hawaiian treat - a rainbow shave ice.
WE ACCEPT CREDIT CARDS ON ALL ORDERS




Technical details of the stamps and mini-sheet:
Colors: $2.50, $6 & $9 stamps and $9 mini-sheet - Multicolored
Size: Stamps - 32mm x 44mm. Minisheet - 57mm x 70mm.
Stamps sheet size: 30 (6 across, 5 down). .
Perforation: Stamps - perf 12. Mini-sheet - imperforate.
Stamps and Mini-sheet design: Enelani.
Layout & Pre-press: Enelani.
Printer: Hawai'i Security Printers, Honolulu, Hawai'i.
Printing Method: 4-color (Cyan, Magenta, Yellow and Black) printing process.
Sheet margin markings: HAWAI'I POST (top middle), "Traffic Light" showing 4 colors used in printing (lower left side), © 2009 Hawai'i Post (lower right side) & Hawai'i Security Printers, Honolulu, Hawai'i. (bottom middle)
Paper: GPA coated white stock with water-activated gum on the back.
---
Return to list of stamp issues
For details on upcoming stamp issues click here
---