---
May 7th 2009. Mopeds.
Three stamps and a minisheet were issued on May 7th 2009 depicting Mopeds that are found on the roads of Hawai'i.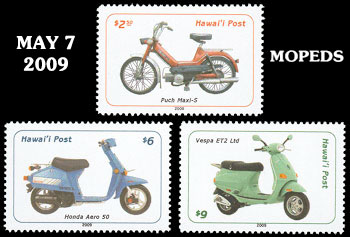 The $2.50 stamp (above top) prepays additional services such as extra weight. It shows the Puch Maxi-S moped. These German mopeds were of high standard and many are still on the roads today. The styling though is now out of favor with the public. Modern moped users prefer an enclosed engine area like scooters.
The $6 stamp (above lower left) prepays the Overnight rate. It shows the Honda Aero 50 moped. This reliable make was very popular. It has been replaced by several new Honda models since.
The $9 stamp (above lower right) prepays the Same Day rate. It shows the Vespa ET2 Limited moped. The ET2 Limited was the last of the Vespas that can be legally registered as a moped in Hawai'i. It is a 2-stroke. The latest model, the Vespa LX50, is a 4-stroke making it too powerful to meet Hawai'i's moped standards. It has to be registered as a motorcycle.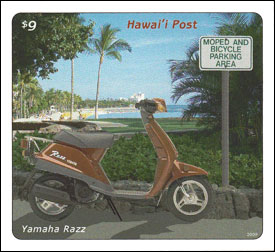 The $9 minisheet (above) prepays the Same Day rate. It shows the Yamaha Razz moped parked at the Moped & Bicycle parking area at Kuhio Beach in Waikiki. The Razz is one of the most popular mopeds in Hawaii and is known for its reliability. Although the model is not made any more, most are still on the road as they are easy to maintain and were made to last.
Coastal Honolulu, including Waikiki, is very flat and ideally suited for the use of bicycles and mopeds. Mopeds began pre WWII in Europe when a small motor was attached to a regular bicycle. The $2.50 stamp is what most people think of when you say the word "moped" - exposed engine and transmission, large spoked wheels and pedals. The modern day moped has come a long way since then. Today they look the same as scooters. Honda and Yamaha of Japan, copied the European concept from Vespa and Lambretta and improved on it. The Chinese have now entered the market. Their mopeds have very flashy bodies but are unreliable and have poor engineering as any moped mechanic will tell you.
Since 1946, Vespa of Italy has produced mopeds and scooters of the highest quality and is popularly considered the "Rolls Royce" of the genre. Since the appearance of a Vespa in the movie "Roman Holiday" with Gregory Peck driving and Audrey Hepburn on the back riding sidesaddle, Vespa has never looked back. Used Vespas command high resale prices and are eagerly sought after by collectors.
Hawai'i's moped law covers 2-wheeled vehicles of less than 50cc and a maximum speed of 30 mph. They can be legally parked at bicycle racks (all over Waikiki) and require no insurance or helmet (although a helmet is strongly suggested to be worn). The moped license (above example) is placed on the rear mud flap and is good for the lifetime of the moped. Hawai'i Post regularly uses a moped for its pick-ups and deliveries in Waikiki.

The special postmark for this issue depicts a Vespa ET2 Limited moped.
WE ACCEPT CREDIT CARDS ON ALL ORDERS




Technical details of the stamps:
Colors: Multicolored
Size: Individual Stamp - 50mm x 38mm. Minisheet - 76mm x 70mm.
Stamp sheet size: 30 (6 across, 5 down)
Perforation: Perf 12. Minisheet - imperf.
Stamps design: Enelani.
Layout & Pre-press: Enelani.
Printer: Hawai'i Security Printers, Honolulu, Hawai'i.
Printing Method: 4-color (Cyan, Magenta, Yellow and Black) printing process.
Sheet margin markings: HAWAI'I POST (top middle), "Traffic Light" showing 4 colors used in printing (lower left side), © 2009 Hawai'i Post (lower right side) & Hawai'i Security Printers, Honolulu, Hawai'i. (bottom middle)
Paper: GPA coated white stock with water-activated gum on the back.
---
Return to list of stamp issues
For details on upcoming stamp issues click here
---