---
August 26th 2009. Youth Hostels Centenary.
Two stamps and a mini-sheet were issued on August 26th 2009 to celebrate the Centenary of Youth Hostels.

It was a stormy night on August 26th 1909, when a teacher and a group of schoolboys on an eight-day nature hike from Altena to Aachen, Germany sought refuge in a farmer's barn. Necessity being the mother of invention, the schoolteacher, Richard Schirrmann who could not sleep, came up with the idea of accommodations for young people on hiking routes, just a day apart. His idea was published in 1910 and from that article he soon garnered a lot of support.
The first hostel was opened at his own school in Altena, Westphalia, Germany and was moved to Altena Castle (depicted on the $9 minisheet) in 1912. This hostel inside the castle still exists today. His idea soon caught on throughout Europe and then the world.
The International Youth Hostel Federation was founded in 1932 which later became "Hostelling International". The town of Altena erected a statue of him (shown on the First Day Cover). Richard Schirrmann died in 1961, but his idea lives on in over 4,500 Hostels in more than 80 different countries, including two in Honolulu, Hawai'i. The Waikiki Hostel is depicted on the $9 stamp. Hostels are not just for young backpackers, but also cater to families. Hostels come in all shapes and sizes, from castles to log cabins.
The $6 stamp (above left) prepays the Overnight rate. It shows Richard Schirrmann, the founder of Youth Hostels, and a backpacker next to a signpost which says "Altena 5km".
The $9 stamp (above right) prepays the Same Day rate. It shows the front view of the Hale Aloha Hostel in Waikiki which is part of the chain of Hostels run by "Hostelling International".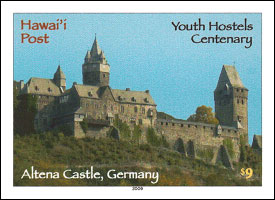 The $9 minisheet (above) prepays the Same Day rate. It shows a view of Altena Castle in Germany before restoration. Today it looks very different as recently all the ivy has been stripped off the walls and it has been painted gray.

The special postmark for this issue (above) shows a bunk bed which is an appropriate symbol for Youth Hostels. Most Hostels have dorms which consist of rooms with 3 or 4 bunk beds that sleep 6 to 8 people.
WE ACCEPT CREDIT CARDS ON ALL ORDERS




Technical details of the stamps:
Colors: $6 and $9 stamps - Multicolored
Size: Individual Stamp - 48mm x 32mm. Minisheet - 70mm x 51mm.
Stamp sheet size: (6 across, 5 down).
Perforation: 12. Minisheet: Imperf.
Stamps design: Enelani.
Layout & Pre-press: Enelani.
Printer: Hawai'i Security Printers, Honolulu, Hawai'i.
Printing Method: 4-color (Cyan, Magenta, Yellow and Black) printing process.
Sheet margin markings: HAWAI'I POST (top middle), "Traffic Light" showing 4 colors used in printing (lower left side), © 2009 Hawai'i Post (lower right side) & Hawai'i Security Printers, Honolulu, Hawai'i. (bottom middle)
Paper: GPA coated white stock with water-activated gum on the back.
---
Return to list of stamp issues
For details on upcoming stamp issues click here
---