---
March 9th 2010. Macadamia Nuts.
Three stamps and a minisheet were issued on March 9th 2010 to celebrate the centenary of the Hawaiian Agricultural Experiment Station promoting the planting of macadamia nut trees on the Big Island in 1910.
The Macadamia nut tree is native to the coastal rain forests of Queensland, Australia. William Purvis brought Macadamia seeds to Hawai'i in 1882 and Macadamias have now become a major agricultural crop in Hawai'i. Over 20,000 acres in Hawai'i are cultivated with Macadamia nut trees, mostly on the Big Island of Hawai'i.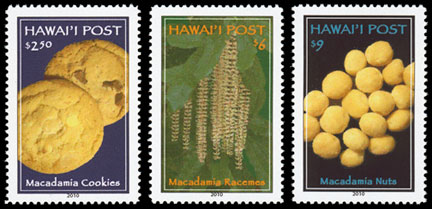 The species Macadamia integrifolia has attractive evergreen trees which can reach up to 60 feet tall and 40 feet wide. The Macadamia trees produce racemes about a foot long which hang down from the branches and can contain several hundred small flowers. Each raceme produces about a dozen nuts. Once mature, the nuts drop to the ground making harvesting easier.
Once harvested, the outer fibrous green shell is dehusked by a machine. The nuts are then dried for about 2 to 3 weeks in the open-air. Inside the nut, the kernel starts to shrink and becomes loose. The nuts are then cracked open again by a machine as the shell is extremely hard. The kernels are cleaned with fresh water and inferior kernels are removed. Next, the nuts are placed in a dehydrator for 5 days and this brings the moisture content down to about 1%. The nuts are now ready for flavoring, packaging and distribution to sales outlets.
Macadamia nuts come in many different flavors.These include salt, honey, garlic etc. They are often coated in chocolate and pieces put in Macadamia Nut cookies. Macadamia nuts in all flavors and concoctions are very popular with tourists in Hawai'i to take home to friends and relatives.
The $2.50 stamp (above left) pays for extra charges, such as additional weight. It shows Macadamia nut cookies with white chocolate and dark chocolate.
The $6 stamp (above middle) prepays the Overnight rate. It shows Macadamia racemes hanging from a Macadamia tree.
The $9 stamp (above right) prepays the Same Day rate. It shows a bunch of Macadamia nuts.
The $9 minisheet (above) shows an assortment of Macadamia nuts and cookies.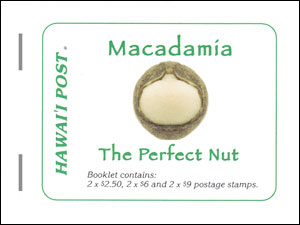 The stamp booklet for this issue (above) depicts a cross-section of a Macadamia nut on the cover. Each booklet contains $2.50, $6 and $9 stamps in booklet pane pairs.

The special postmark for this issue (above) shows a bowl full of macadamia nuts.
WE ACCEPT CREDIT CARDS ON ALL ORDERS




Technical details of the stamps and mini-sheet:
Colors: $2.50, $6 & $9 stampa and minisheet - Multicolored.
Size: 32mm x 48mm.
Stamps sheet size: $2.50, $6 and $9 - 30 (6 across, 5 down).
Minisheet size - 83mm by 57mm.
Stamps perforated 12, minisheet - imperforate
Stamps design: Enelani.
Layout & Pre-press: Enelani.
Printer: Hawai'i Security Printers, Honolulu, Hawai'i.
Printing Method: 4-color (Cyan, Magenta, Yellow and Black) printing process, with Metallic Cyan spot color added.
Sheet margin markings: HAWAI'I POST (top middle), "Traffic Light" showing 5 colors used in printing (lower left side), © 2010 Hawai'i Post (lower right side) & Hawai'i Security Printers, Honolulu, Hawai'i. (bottom middle)
Paper: GPA coated white stock with water-activated gum on the back.
---
Return to list of stamp issues
For details on upcoming stamp issues click here
---