---
January 11th 2010. Antique Maps of Hawai'i.
Three stamps and a minisheet were issued on January 11th 2010 depicting antique maps of Hawai'i
Since the 18th century, if not before*, cartographers have been busy making maps of Hawai'i. The primary reason was for the guidance of ships to and through the sometimes treacherous waters of the Hawaiian Islands. Many strong currents exist between the islands and therefore the need for accurate maps. Maps showing topography helped the early European settlers find suitable flat and arable land on which to grow crops. Today there are a multitude of reasons for accurate maps, especially the division of real estate among an ever increasing population, but only a finite amount of land.
* There is in existence a map drawn by Spanish explorers in the 17th century showing islands in the middle of the Pacific Ocean which are said to depict Hawai'i.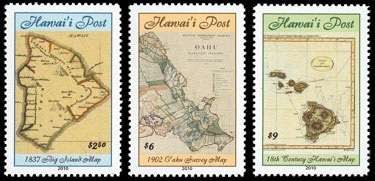 The $2.50 stamp (above left) pays for extra charges, such as additional weight. It shows an 1837 map of the Big Island with text in the Hawaiian language.
The $6 stamp (above middle) prepays the Overnight rate. It shows part of the 1902 Hawai'i Territory Survey map of the island of O'ahu. The Surveyor was Walter Wall.
The $9 stamp (above right) prepays the Same Day rate. It shows part of an 18th century map of Hawai'i created for Captain Cook during his third and final Pacific voyage. William Bligh helped to draw the map and it was published in The Voyages of Captain Cook by Alexander Hogg in 1784-86.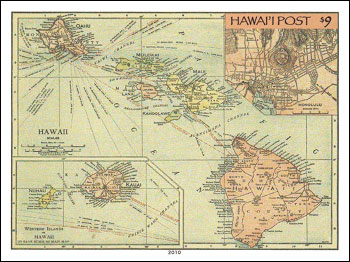 The $9 minisheet (above) prepays the Same Day rate. It shows a map of Hawai'i published by Rand McNally in 1912. The upper right inset shows a street map of Honolulu.

The special postmark for this issue (above) shows an outline map of Waikiki with the map co-ordinates for Diamond Head. These are 21º16' North and 157º48' West.
WE ACCEPT CREDIT CARDS ON ALL ORDERS




Technical details of the stamps and mini-sheet:
Colors: $2.50, $6 & $9 stamps and $9 mini-sheet - Multicolored
Size: Stamps - 32mm x 44mm. Minisheet - 101mm x 76mm.
Stamps sheet size: 30 (6 across, 5 down). .
Perforation: Stamps - perf 12. Mini-sheet - imperforate.
Stamps and Mini-sheet design: Enelani.
Layout & Pre-press: Enelani.
Printer: Hawai'i Security Printers, Honolulu, Hawai'i.
Printing Method: 4-color (Cyan, Magenta, Yellow and Black) printing process.
Sheet margin markings: HAWAI'I POST (top middle), "Traffic Light" showing 4 colors used in printing (lower left side), © 2010 Hawai'i Post (lower right side) & Hawai'i Security Printers, Honolulu, Hawai'i. (bottom middle)
Paper: GPA coated white stock with water-activated gum on the back.
---
Return to list of stamp issues
For details on upcoming stamp issues click here
---