---
April 12th 2010. Antique Hawai'i Postcards.
Three stamps and a minisheet were issued on April 12th 2010 depicting antique Hawai'i postcards.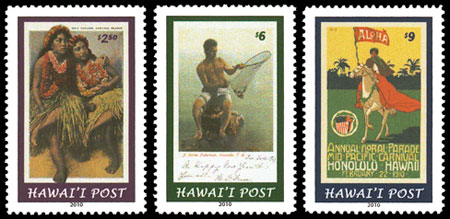 The $2.50 stamp (above left) pays for extra charges, such as additional weight. It shows a postcard depicting Hula girls and was published by The Island Curio Company in the early 1900's.
The $6 stamp (above middle) prepays the Overnight rate. It shows a postcard depicting a native fisherman, published by Wall Nichols & Company, Honolulu in the early 1900's.
The $9 stamp (above right) prepays the Same Day rate. It shows a publicity postcard for the 5th Annual Mid-Pacific Carnival held on February 22nd 1910 - a floral parade held annualy in Honolulu in the early 1900's. The postcard depicts a pau rider holding a banner that reads "Aloha.
Postcards were only introduced into Hawai'i in 1897. The Hawaiian word for postcard is "Pepa Po'oleka". Up until the outbreak of World War I, most postcards sold in Hawai'i were printed in Germany. There were dozens of postcard publishers* and the postcards were eagerly bought by tourists. Modern collectors of postcards (deltiologists) in Hawai'i have to re-patriate postcards as almost all postcards were mailed to the mainland or overseas. Those with Hawai'i stamps on and a date cancellation prior to July 1900 command high prices.
* A list of Hawai'i postcard publishers can be found here http://www.stampshows.com/hipcpubl.html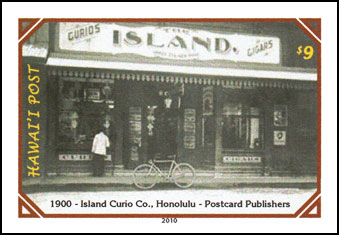 The $9 minisheet (above) prepays the Same Day rate. It shows an old photo of the Island Curio Company store in downtown Honolulu at the turn of the 19th century. The Island Curio Company published and sold postcards depicting many different scenes and the culture of Hawai'i.

The special postmark for this issue (above) shows the backs of 3 postcards.
WE ACCEPT CREDIT CARDS ON ALL ORDERS




Technical details of the stamps and mini-sheet:
Colors: $2.50, $6 & $9 stamps and $9 mini-sheet - Multicolored
Size: Stamps - 32mm x 44mm. Minisheet - 64mm x 45mm.
Stamps sheet size: 30 (6 across, 5 down). .
Perforation: Stamps - perf 12. Mini-sheet - imperforate.
Stamps and Mini-sheet design: Enelani.
Layout & Pre-press: Enelani.
Printer: Hawai'i Security Printers, Honolulu, Hawai'i.
Printing Method: 4-color (Cyan, Magenta, Yellow and Black) printing process.
Sheet margin markings: HAWAI'I POST (top middle), "Traffic Light" showing 4 colors used in printing (lower left side), © 2010 Hawai'i Post (lower right side) & Hawai'i Security Printers, Honolulu, Hawai'i. (bottom middle)
Paper: GPA coated white stock with water-activated gum on the back.
---
Return to list of stamp issues
For details on upcoming stamp issues click here
---