---
March 8th 2011. Herb Kane.
Three stamps and a minisheet were issued on March 8th 2011 in memory of Herb Kane, the famous artist who lived in Hawai'i.
Herb Kawainui Kane was born in Minnesota in 1928. He was raised on the Big Island and Wisconsin. After serving in the U.S. Navy, he moved to Illinois to study at the School of the Art Institute of Chicago, where he received his masters degree in 1953. He later moved to South Kona on the Big Island of Hawai'i.
Herb did extensive research on early Polynesian canoes and the Hawaiian culture, and was a co-founder of the Polynesian Voyaging Society. Herb helped to design and build the sailing canoe Hokule'a (depicted on the minisheet) and was its first captain in 1975. He is renowned for his Hawaiian cultural designs on canvas and murals for resorts and National Parks. He designed stamps for French Polynesia (depicted on the First Day Cover), Marshall Islands, Micronesia and several U.S. stamps including the Hawai'i 50th anniversary of statehood stamp in 2009 (depicted on the $3 stamp below).
Herb Kane died on March 8th 2011, at the age of 82.

The $3 stamp (above left) prepays the difference between the Overnight rate and the Same Day rate. It shows the 2009 U.S. 50th Anniversary of Hawai'i Statehood stamp designed by Herb Kane
The $6 stamp (above middle) prepays the Overnight rate. It shows a Herb Kane painting commissioned by the National Park Service. It depicts Keoua's canoes coming ashore at Pelekane. Keoua was the last of Kamehameha's contenders. As he landed on the beach in the painting, Kamehameha's forces attacked him, and the occupants of his canoe, and Keoua was killed.
The $11.50 stamp (above right) prepays the Same Day rate for 1.5 kilograms. It shows a pen and ink drawing of Herb Kane.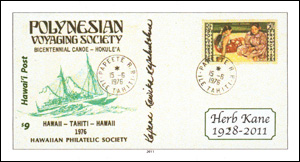 The $9 minisheet (above) prepays the Same Day rate. It shows a Polynesian Voyaging Society cover which traveled on the canoe designed by Herb Kane, the Hokule'a, from Tahiti to Hawai'i in 1976.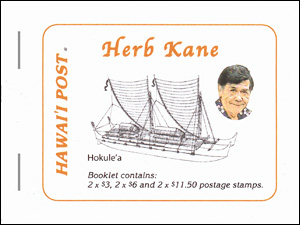 The stamp booklet (above) for this issue contains 3 booklet panes.Each pane consists of two of the same value ($3, $6 and $11.50 stamps). The booklet cover shows the Hokule'a canoe designed by Herb Kane. The booklet is stapled at the left and comes in a clear plastic protective envelope.

The special postmark for this issue (above) depicts the autograph of Herb Kane.
WE ACCEPT CREDIT CARDS ON ALL ORDERS




Technical details of the stamps and mini-sheet:
Colors: $3, $6 and $11.50 stamps and $9 minisheet - Multicolored.
Size: $3 & $6 stamps 32mm x 48mm. $11.50 stamp 38mm x 50mm
Stamps sheet size: $3 and $6 - 30 (5 across, 6 down). $11.50 - 30 (6 across, 5 down).
Minisheet size - 76mm by 51mm.
Stamps perforated 12, minisheet - imperforate
Stamps design: Enelani.
Layout & Pre-press: Enelani.
Printer: Hawai'i Security Printers, Honolulu, Hawai'i.
Printing Method: 4-color (Cyan, Magenta, Yellow and Black) printing process.
Sheet margin markings: HAWAI'I POST (top middle), "Traffic Light" showing 4 colors used in printing (lower left side), © 2011 Hawai'i Post (lower right side) & Hawai'i Security Printers, Honolulu, Hawai'i. (bottom middle)
Paper: GPA coated white stock with water-activated gum on the back.
---
Return to list of stamp issues
For details on upcoming stamp issues click here
---