---
September 9th 2011. Hawai'i Tour helicopters.
Two stamps and a minisheet were issued on September 9th 2011 depicting Hawai'i Tour Helicopters.

On November 13 1907, a Frenchman Paul Cornu lifted a twin-rotor helicopter into the air from the ground without any assistance for a few seconds. In 1924, another Frenchman, Etienne Oehmichen, flew a helicopter for one kilometer on a circular course taking almost eight minutes. However, the first successful helicopter was the Focke-Wulf Fw61 built in 1936 in Germany.
After WWII, helicopter technology progressed rapidly. The first transatlantic crossing by a helicopter was made in 1952. The longest running and successful Hawai'i helicopter tour company is Jack Harter Helicopters on Kaua'i, which started in 1962.
Of all tourist destinations in the U.S.A, Hawai'i has the largest number of tour helicopter companies and helicopters. It's easy to see why because of the scenic beauty, some of which is hard to see from the ground. Such as a waterfall high up on a mountain in a tropical rain forest. About 120,000 Hawai'i tourists a year take a helicopter tour.
The $6 stamp (above right) prepays the Same Day rate. It shows a Robinson R44 helicopter on the ground. The R44 is the most poular helicopter ever sold.
The $9 stamp (above left) prepays the Overnight rate. It shows a Bell 407 Helicopter in flight.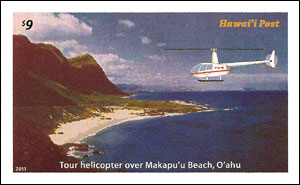 The $9 minisheet (above) shows a tour helicopter above Makapu'u Beach on the island of O'ahu.

The special postmark for this issue (above) shows a helicopter that has just taken off from a heliport.
WE ACCEPT CREDIT CARDS ON ALL ORDERS




Technical details of the stamps and mini-sheet:
Colors: $6 & $9 stampa and minisheet - Multicolored.
Size: 32mm x 48mm.
Stamps sheet size: $6 & $9 - 30 (6 across, 5 down).
Minisheet size - 82mm by 60mm.
Stamps perforated 12, minisheet - imperforate
Stamps design: Enelani.
Layout & Pre-press: Enelani.
Printer: Hawai'i Security Printers, Honolulu, Hawai'i.
Printing Method: 4-color (Cyan, Magenta, Yellow and Black) printing process.
Sheet margin markings: HAWAI'I POST (top middle), "Traffic Light" showing 4 colors used in printing (lower left side), © 2011 Hawai'i Post (lower right side) & Hawai'i Security Printers, Honolulu, Hawai'i. (bottom middle)
Paper: GPA coated white stock with water-activated gum on the back.
---
Return to list of stamp issues
For details on upcoming stamp issues click here
---