---
April 14th 2011. Hawai'i Phone Cards.
Two stamps and a minisheet were issued on April 14th 2011 depicting Hawai'i Phone Cards.

The phone cards depicted on the stamps for this issue were only valid in special pay phones operated by GTE Hawaiian Tel in Hawai'i (mostly on O'ahu) for prepayment of international phone calls. The pay phones were imported from Japan. You inserted the prepaid phone card and the pay phone read the information on the back. You then dialed the overseas number (it was not an 800 number type phone card). The curved indentation on the lower right side was the way this card was issued and was a means of identifying the phonecard in the special pay phones.
After you had finished your phone call, the pay phone punched a small round hole in the phone card. It was modeled after a similar system in Japan, and was primarily targeted at Japanese tourists in Hawai'i. The special pay phones were not that successful and were removed after only a few years of service, and the phone cards became obsolete. In 2000, GTE Hawaiian Tel became Verizon Hawaii.
These phone cards depicted many different scenes of Hawai'i and are now great collectible items, some being quite scarce.
The $6 stamp (above left) prepays the Overnight rate. It shows a phone card depicting a wind surfer riding a wave.
The $9 stamp (above right) prepays the Same Day rate. It shows a phone card depicting Waikiki Beach with Diamond Head in the background.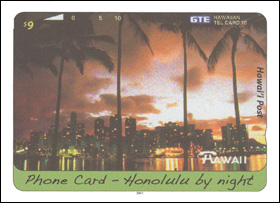 The $9 minisheet (above) shows a phone card depicting Honolulu by night.

The special postmark for this issue (above) depicts a phone receiver on a phone card.
WE ACCEPT CREDIT CARDS ON ALL ORDERS




Technical details of the stamps and mini-sheet:
Colors: $6 & $9 stampa and minisheet - Multicolored.
Size: 32mm x 48mm.
Stamps sheet size: $6 & $9 - 30 (6 across, 5 down).
Minisheet size - 82mm by 60mm.
Stamps perforated 12, minisheet - imperforate
Stamps design: Enelani.
Layout & Pre-press: Enelani.
Printer: Hawai'i Security Printers, Honolulu, Hawai'i.
Printing Method: 4-color (Cyan, Magenta, Yellow and Black) printing process.
Sheet margin markings: HAWAI'I POST (top middle), "Traffic Light" showing 4 colors used in printing (lower left side), © 2011 Hawai'i Post (lower right side) & Hawai'i Security Printers, Honolulu, Hawai'i. (bottom middle)
Paper: GPA coated white stock with water-activated gum on the back.
---
Return to list of stamp issues
For details on upcoming stamp issues click here
---