---
October 5th 2012. Insects II - Beetles.
Three stamps and a minisheet were issued on October 5th 2012 depicting beetles. The second in a series of stamps depicting insects.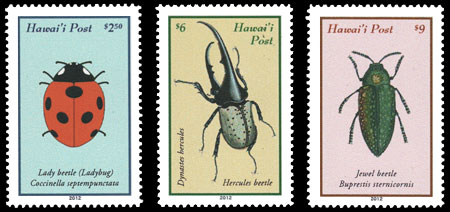 The $2.50 stamp (above left) prepays additional charges such as extra weight. It shows the Lady Beetle (common name Ladybug) - Coccinella septempunctuata. This is a very reconizable insect and means good luck in many cultures. It usually only measures a quarter of an inch long and comes in different colors such as pink, yellow and orange. The spots vary in number and shape. It feeds on tiny insects, such as aphids found on leaves of plants (see mini-sheet below).
The $6 stamp (above center) prepays the Overnight rate. It shows the Hercules Beetle - Dynastes hercules. This beetle is also known as the Rhinoceros or Unicorn beetle. So-called because of its one large horn which it uses to grab and eat food. The female does not have this horn. It can be as long as seven inches. It feeds on rotting wood and rotten fruit on the forest floor.
The $9 stamp (above right) prepays the Same Day rate.It shows the Jewel Beetle - Buprestis sternicornis. This beetle is named after its glossy iridescent color which has a jewel-like effect. They feed on roots, branches and leaves of trees and can cause major damage to the health of trees. They are attracted to recently burned forests where they prefer to lay their eggs. They can swarm and bite if they feel threatened.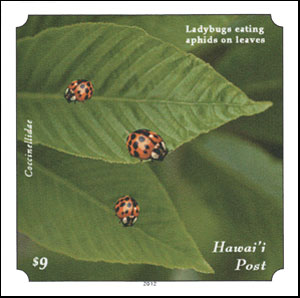 The $9 minisheet (above) prepays the Same Day rate. It shows three ladybugs feeding on aphids on leaves.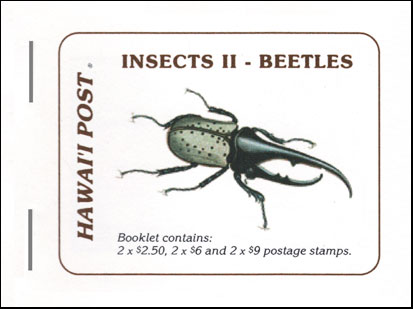 The booklet cover for this issue (above) depicts a Hercules Beetle - Dynastes hercules.

The special postmark for this issue (above) depicts a ladybug.
WE ACCEPT CREDIT CARDS ON ALL ORDERS




Technical details of the stamps and mini-sheet:
Colors: $2.50, $6 & $9 stampa and a $9 minisheet - Multicolored.
Individual stamp size: 47mm x 31mm.
Stamps sheet size: 30 (6 across, 5 down).
Minisheet size - 64mm by 64mm.
Stamps perforated 12, minisheet - imperforate
Stamps design: Enelani.
Layout & Pre-press: Enelani.
Printer: Hawai'i Security Printers, Honolulu, Hawai'i.
Printing Method: 4-color (Cyan, Magenta, Yellow and Black) printing process.
Sheet margin markings: HAWAI'I POST (top middle), "Traffic Light" showing 4 colors used in printing (lower left side), © 2012 Hawai'i Post (lower right side) & Hawai'i Security Printers, Honolulu, Hawai'i. (bottom middle)
Paper: GPA coated white stock with water-activated gum on the back.
---
Return to list of stamp issues
For details on upcoming stamp issues click here
---