---
May 8th 2012. The Sandwich -250th Anniversary
Two stamps and a minisheet were issued on May 8th 2012 celebrating the 250th anniversary of the sandwich.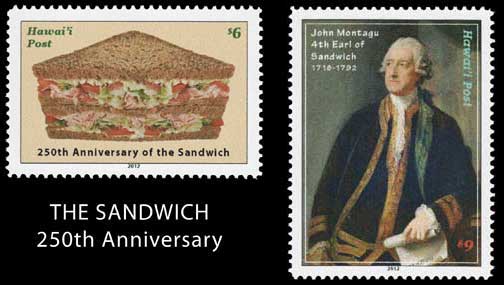 One of Captain James Cook's sponsors for his voyages of discovery in the Pacific Ocean in the 18th century was John Montagu, the 4th Earl of Sandwich (see $9 stamp) 1710-1792. In fact, Hawai'i was named after him and was for a short time called the "Sandwich Islands" (see $9 minisheet). The 4th Earl is also famous for popularizing the sandwich.
The story goes that he was very fond of playing cards until the early hours of the morning. The English aristocrats of the time were used to long sit-down formal dinners. This disrupted his card sessions, so the Earl would ask for some salted beef between two slices of bread so that his hands would not dirty the playing cards.
The first use of the word "sandwich" in print was in 1762 by Edward Gibbons, an English author. The town of Sandwich in the county of Kent, England, celebrated the 250th annniversary of the sandwich in May 2012. Present was the 11th Earl of Sandwich. There were plenty of sandwiches to eat of all kinds.
The $6 stamp (above left) prepays the Overnight rate. It shows a sandwich cut in half diagonally and stacked on top of each other.
The $9 stamp (above right) prepays the Same Day rate. It shows John Montagu, the 4th Earl of Sandwich who popularized the sandwich as we know it today. The portrait is cropped from a painting by the famous English artist Thomas Gainsborough 1727-1788.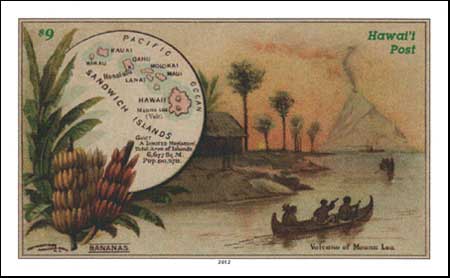 The $9 minisheet (above) prepays the Same Day rate. It shows an artist's view of Hawai'i on a trading card issued by Arbuckle Brothers Coffee in 1889. It depicts an island scene plus a map of the "Sandwich Islands".

The special postmark for this issue (above) depicts a sandwich in the shape of a round bun.
WE ACCEPT CREDIT CARDS ON ALL ORDERS




Technical details of the stamps and mini-sheet:
Colors: $6 & $9 stampa and minisheet - Multicolored.
Size: 48mm x 32mm ($6 stamp). 38mm x 50mm ($9 stamp)
Stamps sheet size: $6 - 30 (6 across, 5 down), $9 - 16 (4 across, 4 down).
Minisheet size - 83mm by 51mm.
Stamps perforated 12, minisheet - imperforate
Stamps design: Enelani.
Layout & Pre-press: Enelani.
Printer: Hawai'i Security Printers, Honolulu, Hawai'i.
Printing Method: 4-color (Cyan, Magenta, Yellow and Black) printing process.
Sheet margin markings: HAWAI'I POST (top middle), "Traffic Light" showing 4 colors used in printing (lower left side), © 2012 Hawai'i Post (lower right side) & Hawai'i Security Printers, Honolulu, Hawai'i. (bottom middle)
Paper: GPA coated white stock with water-activated gum on the back.
---
Return to list of stamp issues
For details on upcoming stamp issues click here
---