---
September 2nd 2013 - 175th Anniversary of the birth of Queen Lili'uokalani.
Three stamps and a minisheet were issued on September 2nd 2013 to celebrate the 175th Anniversary of the birth of Queen Lili'uokalani. The eighth and last monarch of the Kingdom of Hawai'i.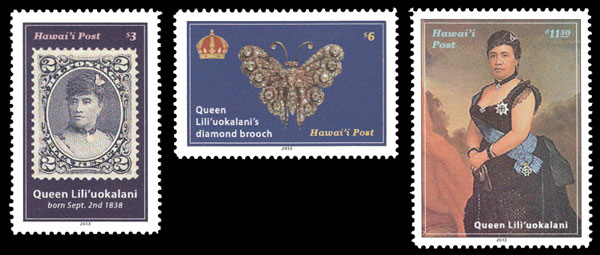 The $3 stamp (above left) prepays the difference between the Overnight rate and the Same Day rate. It shows a stamp issued by the Kingdom of Hawai'i in 1879 depicting a portrait Princess Lili'uokalani wearing a butterfly brooch in her hair (see $6 stamp). It is the first stamp issued in the entire world to depict a butterfly.
The $6 stamp (above middle) prepays the Overnight rate. It shows the diamond-studded brooch in the shape of a butterfly that Princess Lili'uokalani bought in London, England where she was attending Quen Victoria's Golden Jubilee in 1887.
The $11.50 stamp (above right) prepays the Same Day rate for 1.5 kilograms (3.3 pounds). It shows a portrait of Queen Lili'uokalani. This painting hangs in 'Iolani Palace.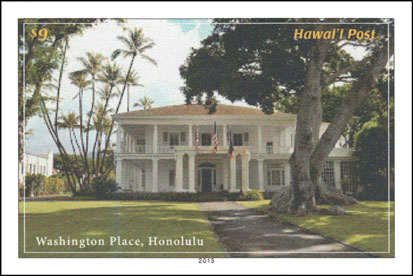 The $9 minisheet (above) prepays the Same Day rate. It depicts Washington Place in Honolulu, the home where Queen Lili'uokalani lived after being dethroned.
Lydia was born in Honolulu on September 2 1838, the daughter of High Chief Kapaakea and the Chiefess Keohokalole, the third of ten children. One of her brothers was Kalakaua who later became King. She was adopted at birth by Abner Paki and his wife Konia. She attended the Royal School where she was educated by Missionaries and became fluent in English.
On September 16th 1862, she married John Dominis, a ha'ole (caucasian), but they had no children. After the death of her brother Kalakaua in January 1991, she ascended the throne. Her husband died soon after she became Queen and she never remarried. She replaced the Cabinet and named Princess Ka'iulani as her successor (who had a tragic early death in 1899). She drew up a new constitution which gave more power to herself and the native Hawaiians. Hawai'i was in a recession at the time due to the McKinley Tariff Act which meant the Kingdom of Hawai'i had to compete with other countries to export sugar to the U.S.A. American businessmen in the islands wanted annexation by the U.S. so as to increase their sugar profits.
Armed citizens backed by the annexationists led by John Stevens (the American Minister in Hawai'i) entered Government buildings and a Provisional Government was proclaimed. The Queen held out in 'Iolani Place until January 17 1893. She was deposed, but later a cache of weapons was found and she was put on trial for treason and then imprisoned in her own Palace. Later released she was allowed to live in Washington Place (the present-day official Governor's residence, depicted on the minisheet) until her death on November 11 1917.
She was a woman of many talents, including music. She composed the song "Aloha Oe" and many others with Captain Henry Berger of the Royal Hawaiian Band. This is just a very brief history of her reign. Many books have been written on the subject which we recommend that you read if you want a fuller picture of the events of this period.
In a quiet place behind the State Capitol in Honolulu, you will find a statue of Queen Lili'uokalani which often has fresh leis left by those Hawaiians who remember this great lady and last monarch of the Kingdom of Hawai'i.

The special postmark for this issue shows the Royal Crown of the Hawaiian Monarchy which was made in England.
WE ACCEPT CREDIT CARDS ON ALL ORDERS




Technical details of the stamp:
Colors: $3, $6 and $11.50 stamps and $9 minisheet - Multicolored.
Size: $3 stamp 32mm x 48mm and $6 stamp 48mm x 32mm. $11.50 stamp 38mm x 50mm
Stamps sheet size: $3 - 30 (6 across, 5 down). $6 - 30 (5 across, 6 down). $11.50 - 16 (4 across, 4 down).
Minisheet size - 76mm by 51mm.
Stamps perforated 12, minisheet - imperforate
Stamps design: Enelani.
Layout & Pre-press: Enelani.
Printer: Hawai'i Security Printers, Honolulu, Hawai'i.
Printing Method: 4-color (Cyan, Magenta, Yellow and Black) plus Gold Foil spot color.
Sheet margin markings: HAWAI'I POST (top middle), "Traffic Light" showing 5 colors used in printing (lower left side), © 2013 Hawai'i Post (lower right side) & Hawai'i Security Printers, Honolulu, Hawai'i. (bottom middle)
Paper: GPA coated white stock with water-activated gum on the back.
---
Return to list of stamp issues
For details on upcoming stamp issues click here
---