---
February 10th 2013. Year of the Snake.
Two stamps and a minisheet were issued on February 10th 2013 to celebrate the Year of the Snake.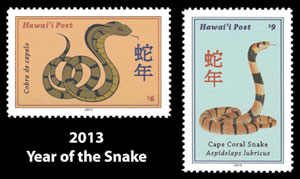 The Lunar New Year, the Year of the snake started on February 10, 2013. People born in this year are are romantic, charming, well-mannered, and like to be in control. They are skilled communicators and have a good temper, yet calculating and often suspicious and conservative. They love music, books, photography, clothes, and fine food. They have the patience to wait for the right moment to achieve their goals. Calm and attentive to the desires of their conquests, they are very skilled in the art of seduction. Their intuition guides them strongly and they have the ability to choose a companion that gives them love and strong support.
The $6 stamp (above left) prepays the Overnight rate.. It shows a Cobra snake Cobra de capelo.
The $9 stamp (above right) prepays the Same Day rate. It shows a Cape Coral Snake Aspideleps lubricus.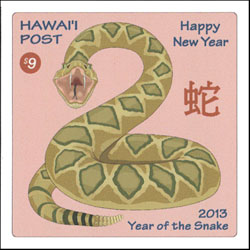 The $9 minisheet (above) prepays the Same Day rate. It shows a rattlesnake about to pounce and bite.

The special postmark for this issue (above) depicts a snake and the Chinese character for a snake.
WE ACCEPT CREDIT CARDS ON ALL ORDERS




Technical details of the stamps and mini-sheet:
Colors: $6 & $9 stampa and a $9 minisheet - Multicolored.
Individual stamp size: $6 and $9 - 31mm x 47mm.
Stamps sheet size: $6 stamp - 30 (5 across, 6 down).
Stamps sheet size: $9 stamp - 30 (6 across, 5 down).
Minisheet size - 70mm by 70mm.
Stamps perforated 12, minisheet - imperforate
Stamps design: Enelani.
Layout & Pre-press: Enelani.
Printer: Hawai'i Security Printers, Honolulu, Hawai'i.
Printing Method: 4-color (Cyan, Magenta, Yellow and Black) printing process.
Sheet margin markings: HAWAI'I POST (top middle), "Traffic Light" showing 4 colors used in printing (lower left side), © 2013 Hawai'i Post (lower right side) & Hawai'i Security Printers, Honolulu, Hawai'i. (bottom middle)
Paper: GPA coated white stock with water-activated gum on the back.
---
Return to list of stamp issues
For details on upcoming stamp issues click here
---