---
March 3rd 2005 - 'Okika o Hawai'i (Orchids from Hawai'i), Part II in a series.
(See also Hawaiian Orchids Part I)
Three stamps, in a triptych, were issued on march 3rd 2005 showing three different 'Okika o Hawai'i (Orchids from Hawai'i ). These orchids are not native to Hawai'i, but are commonly grown there. There are only three orchids native to Hawai'i (see September 4 2001 issue), all the other orchids currently found in Hawai'i were imported from elsewhere in the world - mostly in the last seventy-five years.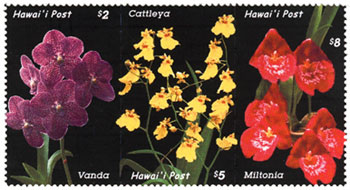 As a lot of orchids today are hybrids, just the genus name has been placed on each stamp. Hybridization occurs both naturally and artificially. The Orchidaceae family has 6 subfamilies, with over 725 genera and about 25,000 species. Cataloging and naming each different orchid can therefore be quite complicated.
The $2 stamp (above left) pays for extra charges, such as additional weight.
Vanda. Shown is a purple Vanda. The Vanda orchid has about 40 species and is grown from India, the Indian Ocean to Australia and the Pacific Ocean (including Hawai'i). Three sepals and two petals are fairly flat and uniform in shape. The third petal (lip) is different and much smaller. Since they are tall and showy and fairly long lasting, they are popular with flower arrangers.
The $5 stamp (above middle) prepays the Overnight rate.
Cattleya. Shown are multiple yellow Cattleya. The Cattleya orchid is an epiphyte and is native to Central and South America. This orchid has about 40 species. Stalks can contain up to 30 flowers or more, the $5 stamp shows 23 blooms. It is a very popular orchid and is found in all orchid farms in Hawai'i. It is widely used to develop hybrids with other genera of orchids.
The $8 stamp (above right) prepays the Same Day rate.
Miltonia. Shown is a bright red hybrid Miltonia. The Miltonia orchid has about 20 species and is native to South America. The raceme from a bulb can produce up to 10 flowers. The flowers can be quite spectacular, especially the large lip (lower petal), when hybridized.
The outer edges of the triptych are perforated (perf 12). The two vertical divisions between the 3 stamps in the triptych are rouletted (roulette 5).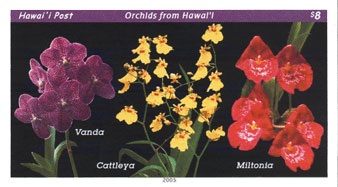 The $8 minisheet (above) prepays the Same Day rate. It shows the same orchids, but in one design with no perforations or roulettes.

The special postmark for this issue (above) shows a Cattleya orchid. Purple ink was used.
WE ACCEPT CREDIT CARDS ON ALL ORDERS




Technical details of the stamps:
Colors: $2, $5 and $8 stamps and $8 minisheet - Multicolored
Stamps sheet size: 2 triptychs across and 4 down. Mini-sheet - 102mm x 70mm
Perforation: Triptych - outer edges, perf 12. The two vertical divisions within the triptych are rouletted 5. Mini-sheet - imperforate.
Mini-sheet and triptych design: Enelani.
Layout & Pre-press: Enelani.
Printer: Hawai'i Security Printers, Honolulu, Hawai'i.
Printing Method: 4-color (Cyan, Magenta, Yellow and Black) printing process.
Sheet margin markings: HAWAI'I POST (top middle), "Traffic Light" showing 4 colors used in printing (lower left side), © 2005 Hawai'i Post (lower right side) & Hawai'i Security Printers, Honolulu, Hawai'i. (bottom middle)
Paper: GPA coated white stock with water-activated gum on the back.
---
Return to list of stamp issues
For details on upcoming stamp issues click here
---