---
July 3rd 2008. 170th Anniversary of Hulihe'e Palace.
Three stamps in a triptych, a minisheet and a stamp booklet were issued on July 3rd 2008 to commemorate the 170th Anniversary of Hulihe'e Palace, Ali'i Drive, Kailua-Kona, Big Island of Hawai'i.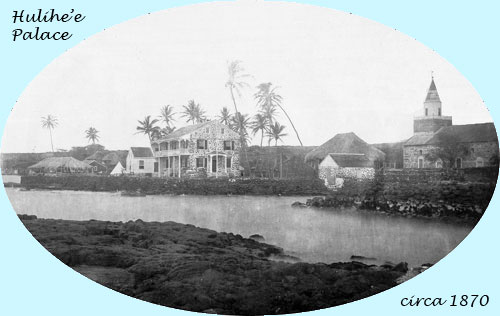 A plaque outside the Palace states:
"Hulihee Palace was built in 1838 by Governor John Adams Kuakini, a companion of Kamehameha I and one of the first Chiefs to take up western ways.
Built of coral, lava rock and native woods, it was handsomely furnished. Hulihee became the Kailua residence of Princess Ruth, Governess of Hawai'i. King Kalakaua redecorated it for use as his Summer Palace; and later it belonged to Prince Jonah Kalanianaole, Hawaiian delegate to Congress.
In need of repairs for several years, the Palace was restored by the Daughters of Hawai'i in 1927 for use as a Museum."
Hulihe'e Palace suffered severe damage from the October 15 2006 earthquakes. The original earthquake was 6.7 on the Richter scale. This was followed by a magnitude 6.0 earthquake located off the Kohala coast, about 7 minutes later. The earthquake damage to the Palace has been estimated to cost about a million dollars to fully repair

To view a photo gallery of Hulihe'e Palace click here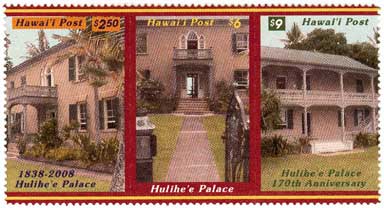 The $2.50 stamp (left) shows the front view of Hulihee Palace from Ali'i Drive.
The $6 stamp (middle) shows the enranceway to Hulihee Palace.
The $9 stamp (right) shows the rear view of Hulihee Palace from the Pacific Ocean.
The above stamps reflect the new postage rates that came into effect on May 27 2008.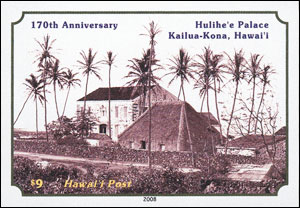 The $9 minisheet (above) prepays the Same Day rate. It shows a sepia print of Hulihe'e Palace in 1884. The thatched hut in the foreground was the birthplace of Princess Ruth. It is no longer standing.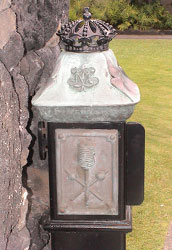 . .

The special postmark for this issue (right) shows the design on the gatepost at the front entrance to the grounds of Hulihe'e Palace (above left). The center object is a kahili (a feathered standard) which is a symbol of Hawaiian royalty, usually found standing on each side of a royal throne or held by bearers on each side when a monarch is approaching. The feathers were obtained from Hawaiian birds such as I'iwi, Koa'e, Mamo and the now extinct O'o.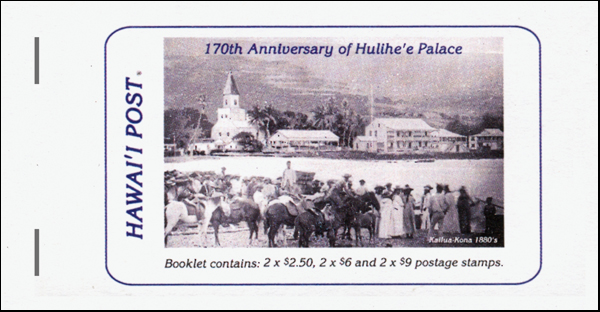 A booklet was also released for this issue. The front cover shows a photo taken in the 1880's from Kailua-Kona with Hulihe'e Palace in the background. Each booklet contains 2 triptychs.
WE ACCEPT CREDIT CARDS ON ALL ORDERS




Technical details of the stamps and mini-sheet:
Colors: $2.50, $6 & $9 stamps and $9 mini-sheet - Multicolored
Size: Stamps - 31.5mm x 44mm. Minisheet - 81mm x 47mm.
Stamps sheet size: 8 triptychs (2 across, 4 down). Total 24 stamps.
Perforation: Stamps - perf 12. Mini-sheet - imperforate.
Stamps and Mini-sheet design: Enelani.
Layout & Pre-press: Enelani.
Printer: Hawai'i Security Printers, Honolulu, Hawai'i.
Printing Method: 4-color (Cyan, Magenta, Yellow and Black) printing process.
Sheet margin markings: HAWAI'I POST (top middle), "Traffic Light" showing 4 colors used in printing (lower left side), © 2008 Hawai'i Post (lower right side) & Hawai'i Security Printers, Honolulu, Hawai'i. (bottom middle)
Paper: GPA coated white stock with water-activated gum on the back.
1870 Hulihe'e Palace (top), 1884 minisheet and 1880's booklet cover photos courtesy of Hawaiian State Archives.
---
Return to list of stamp issues
For details on upcoming stamp issues click here
---