---
August 1 2009. Roses.
Three stamps and a minisheet were issued on August 1st 2009 depicting roses.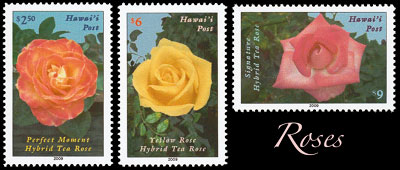 Roses come in over 100 species and in a variety of colors and sizes. Most roses originated in Asia (Rosa chinensis) with some of European or Mediterranean origin. There are many hybrids which come about by grafting. Roses are commonly found in private gardens and botanical gradens and are the most popular flowers bought at florists.
Red roses are symbols of love and beauty. A gift of red roses often means love for that person. Many popular songs contain references to red roses. Artists such as Monet, Renoir and others have painted roses. "Roses in a Vase" by Renoir is depicted on the FDC cachet. Perfume is also made from roses and is obtained by steam distilling the crushed petals. Mixed with essential oils this is known as "Attar of Roses".
The hybrid tea roses (shown on all 3 stamps) are the single most popular class of garden roses of modern times.
The $2.50 stamp (above left) pays for extra charges, such as additional weight. It shows the Hybrid Tea Rose "Perfect Moment".
The $6 stamp (above middle) prepays the Overnight rate. It shows a yellow Hybrid Tea Rose.
The $9 stamp (above right) prepays the Same Day rate. It shows the Hybrid Tea Rose "Signature".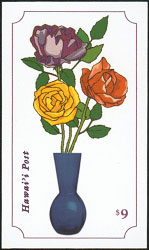 The $9 minisheet (above) prepays the Same Day rate. It shows a drawing of yellow, red and purple roses in a blue vase.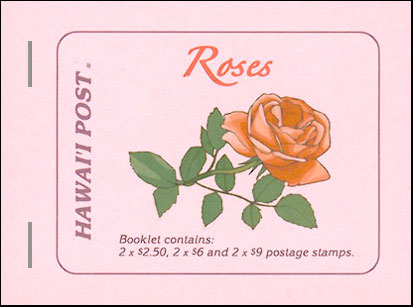 A Booklet was issued consisting of 3 booklet panes. Each pane consists of 2 stamps of each value ($2.50, $6 and $9) and has a white margin all around. "Hawai'i Security Printers, Honolulu, Hawai'i" is printed horizontally on the bottom margin and "© 2009 Hawai'i Post" is printed vertically on the lower right side margin of each pane. The Booklet cover shows a drawing of a red rose and is printed on pink card stock.

The special postmark for this issue depicts a rose in full bloom.
Special thanks to the Coletti Garden for their inspiration and their permission to photograph their different rose varieties.
WE ACCEPT CREDIT CARDS ON ALL ORDERS




Technical details of the stamps:
Colors: Multicolored
Size: Individual Stamp - 38mm x 50mm. Minisheet - 45mm x 76mm.
Stamp sheet size: 16 (4 across, 4 down)
Perforation: Perf 12. Minisheet - imperf.
Stamps design: Enelani.
Layout & Pre-press: Enelani.
Printer: Hawai'i Security Printers, Honolulu, Hawai'i.
Printing Method: 4-color (Cyan, Magenta, Yellow and Black) printing process.
Sheet margin markings: HAWAI'I POST (top middle), "Traffic Light" showing 4 colors used in printing (lower left side), © 2009 Hawai'i Post (lower right side) & Hawai'i Security Printers, Honolulu, Hawai'i. (bottom middle)
Paper: GPA coated white stock with water-activated gum on the back.
---
Return to list of stamp issues
For details on upcoming stamp issues click here
---