---
November 3rd 2011. Chevrolet Centenary.
Three stamps and a minisheet were issued on November 3rd 2011 to celebrate the centenary of the founding of the Chevrolet Motor Company.
Louis Chevrolet (born of Swiss parents), a race car driver and automotive engineer started the Chevrolet Motor Company on November 3rd, 1911, together with William "Billy" Durant (a founder of General Motors in 1908). The first Chevrolet was the "Series C Classic Six" (shown on the First Day Cover).
In 1913, the Little Automobile Company merged with Chevrolet. In 1915, because of design differences, Louis Chevrolet sold his entire interest to William "Billy" Durant. Then in 1917, Chevrolet was merged into General Motors as a separate automobile division. Before WWII, Chevrolet successfully competed with the Ford Motor Company.
Some milestones include introducing the Corvette in 1953, fuel injection in 1957, and most recently the Volt, an electric hybrid car which is the most fuel-efficient compact car sold in the USA, with a 94 mpg EPA rating.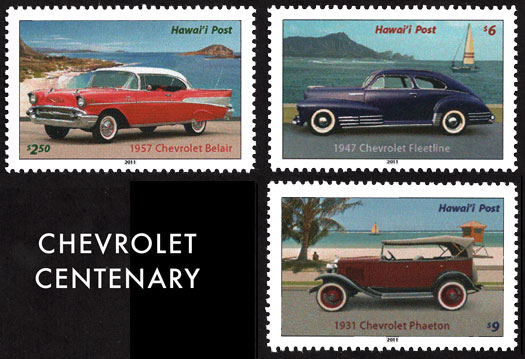 The $2.50 stamp (above left) prepays additional charges such as extra weight. It shows a red and white 1957 Chevrolet Belair with Makapu'u Beach and Chinaman's Hat in the background.
The $6 stamp (above top right) prepays the Overnight rate. It shows a wine-colored 1947 Chevrolet Fleetline with Diamond Head in the background.
The $9 stamp (above bottom right) prepays the Same Day rate. It shows a maroon and tan 1932 Chevrolet Phaeton at Magic Island Beach Park.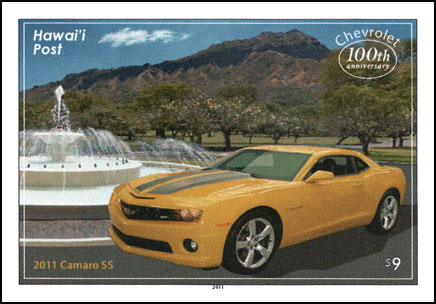 The $9 minisheet (above) shows a yellow 2011 Chevrolet Camaro SS near the Kapiolani Park fountain with Diamond Head in the background.

The special postmark for this issue (above) depicts a 1957 Chevrolet Belair.
WE ACCEPT CREDIT CARDS ON ALL ORDERS




Technical details of the stamps and mini-sheet:
Colors: $2.50, $6 & $9 stamps and minisheet - Multicolored.
Size: 48mm x 32mm.
Stamps sheet size: $2.50, $6 & $9 - 30 (5 across, 6 down).
Minisheet size - 82mm by 57mm.
Stamps perforated 12, minisheet - imperforate
Stamps design: Enelani.
Layout & Pre-press: Enelani.
Printer: Hawai'i Security Printers, Honolulu, Hawai'i.
Printing Method: 4-color (Cyan, Magenta, Yellow and Black) printing process.
Sheet margin markings: HAWAI'I POST (top middle), "Traffic Light" showing 4 colors used in printing (lower left side), © 2011 Hawai'i Post (lower right side) & Hawai'i Security Printers, Honolulu, Hawai'i. (bottom middle)
Paper: GPA coated white stock with water-activated gum on the back.
---
Return to list of stamp issues
For details on upcoming stamp issues click here
---