---
August 4th 2011. President Obama's 50th Birthday.
Two stamps and a minisheet were issued on August 4th 2011 to celebrate the 50th birthday of President Barack Obama.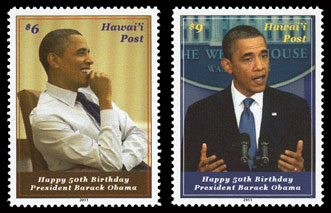 Barack Hussein Obama II was born in Hawai'i at 7:24pm on August 4th 1961 at the Kapiolani Maternity and Gynecological Hospital, Honolulu.
There had been much speculation in the press about his birth certificate because Obama was displaying a computer written facsimile online (there were no public computers in 1961 when he was born), which only stirred debate and a lot of controversy. To put an end to the speculation, the President recently released his original long form typewritten birth certificate. On this form, it names his father as Barack Hussein Obama, African aged 25 from Kenya; and his mother as Stanley Ann Dunham (shown on the FDC cachet with the young Barack), Caucasian aged 18, from Wichita, Kansas.
What the staff here at Hawai'i Post can't understand is why President Obama didn't release his original long form typewritten birth certificate in the first place, instead of insisting that the online computer written birth certificate was real, when in fact it wasn't. It would have saved a lot of speculation about him being born in Kenya etc. We are glad the controversy has been laid to rest - finally.
The President celebrated his fiftieth birthday among other things, by holding a star-studded dinner and fundraising event in his former hometown of Chicago, Illinois at the Aragon Entertainment Center.
The $6 stamp (above left) prepays the Overnight rate. It shows a shirtsleeved President Obama sitting at his Oval Office desk enjoying a happy moment.
The $9 stamp (above right) prepays the Same Day rate. It shows President Obama giving a News Conference in the White House Briefing Room.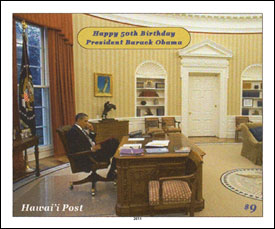 The $9 minisheet (above) shows President Obama on a typical day seated at his desk in the Oval Office taking a phone call.

The special postmark for this issue (above) depicts President Obama's signature.
All three photos on the stamps and minisheet are by White House photographers.
WE ACCEPT CREDIT CARDS ON ALL ORDERS




Technical details of the stamps and mini-sheet:
Colors: $6 & $9 stampa and minisheet - Multicolored.
Size: 37mm x 50mm.
Stamps sheet size: $6 & $9 - 16 (4 across, 4 down).
Minisheet size - 76mm by 63mm.
Stamps perforated 12, minisheet - imperforate
Stamps design: Enelani.
Layout & Pre-press: Enelani.
Printer: Hawai'i Security Printers, Honolulu, Hawai'i.
Printing Method: 4-color (Cyan, Magenta, Yellow and Black) printing process.
Sheet margin markings: HAWAI'I POST (top middle), "Traffic Light" showing 4 colors used in printing (lower left side), © 2011 Hawai'i Post (lower right side) & Hawai'i Security Printers, Honolulu, Hawai'i. (bottom middle)
Paper: GPA coated white stock with water-activated gum on the back.
---
Return to list of stamp issues
For details on upcoming stamp issues click here
---